A.M. Links: Additional Ebola Screenings for Flights From West Africa, NATO Has ISIS Plan, Mexican Army Takes Over Town After Mass Grave Found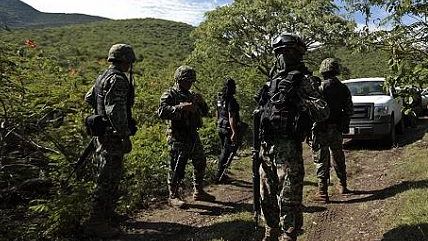 euronews

The U.S. is not prepared to ban flights from West Africa over Ebola but will institute additional passenger screening in the U.S. and West Africa.

Sen. Bob Casey (D-Pa.) is the latest senator calling for a debate and a vote on authorizing the use of military force against ISIS, the Islamic State in Iraq and Syria. As ISIS tries to seize a Syrian town near the Turkish border, Turkey's foreign minister says NATO has a plan should ISIS attack the country.
Democrats in the House of Representatives say they've been abandoned by labor and environmental groups ahead of the midterm elections.
The Republican governor of Pennsylvania, Tom Corbett, who looks headed for defeat in November, wants a bill passed that would criminalize behavior by convicts found to cause their victims continued "mental anguish." The bill was introduced after Mumia Abu Jamal, convicted of killing a Philadelphia cop in 1981, gave a commencement address at a college in Vermont.
The State Department says it's concerned by border skirmishes between Pakistan and India.
The Mexican army has taken over security in Iguala after 43 students disappeared and a mass grave was found.
Follow Reason and Reason 24/7 on Twitter, and like us on Facebook. You can also get the top stories mailed to you—sign up here.