Chinese Government Working Overtime to Censor News, Views of Hong Kong Demonstrations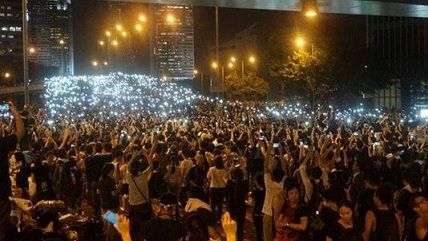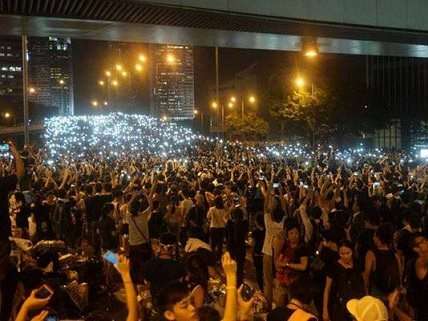 Protests that began last week in Hong Kong over Beijing's decision to vet all candidates for a 2017 election for chief administrator have turned into some of the largest demonstrations Hong Kong has seen. The growing protests are thanks in part to a disproportionate response from local police in Hong Kong, who fired tear gas at protesters in an attempt to disperse them. Over the weekend demonstrators took to the streets surrounding government buildings as part of the campaign of mass civil disobdience "Occupy Central" activists promised.
So far, the Chinese government has officially insisted it had confidence in Hong Kong's ability to police the protests itself. But it's busy censoring news of the protests on the mainland, which in 2014 includes a slew of social media and communication apps that have become popular in China and Hong Kong, as well as disrupting mobile networks and conducting surveillance on the island.
The intervention is beyond what is normal for the usually free-talking Hong Kong, even as people are used to Chinese censors scrubbing the Internet in the mainland when mass demonstrations erupt.

On Sunday, users reported that Facebook Inc's photo sharing app Instagram was inaccessible on China's mainland.

Chinese websites, including Baidu Inc's search engine and the Twitter-like Weibo Corp microblog, have set about deleting references to the Hong Kong demonstrations.

Others have reported messages on Tencent Holdings Ltd's hugely popular WeChat messaging app being removed.

"I think it is still quite safe except WeChat, which is China," said Oscar, a 21-year-old student at Hong Kong's Polytechnic University, who uses Facebook and WhatsApp to communicate and plan with other protesters.

"It depends on your phone, because some China (brand) phones, they can detect your messages," he said.
The Chinese government's attempt to censor news of the protests extends to all opinons, something that appears to frighten even some pro-government activists in China:
"WeChat is not blocked, I think some stuff is being deleted," said Jennie, who, after growing up in mainland China and being educated in the United States, now runs a Hong Kong-based charity.

"I forwarded an article (on Hong Kong) on today and it was deleted. The mainland should think it's good people are expressing ideas on behalf of the mainland government, but they even deleted that. Basically they're preventing the opportunity for dialogue, which if you think about it is quite scary."
The Chinese government may not be able to prevent its citizens from knowing about protests in Hong Kong, but it can try to keep them from thinking about it. The last word in the Reuters article, from the pro-government activist:
"All my friends … know what's happening in Hong Kong," said Jennie in Hong Kong. "They're tweeting from Weibo and WeChat and forwarding articles. Not expressing personal views, but there are articles being forwarded."

At the same time, Chinese authorities ordered all websites to "immediately clear away information about Hong Kong students violently assaulting the government and about 'Occupy Central'," according to China Digital Times, another censorship watchdog.

"My dad saw an article discussion I forwarded on the 'deeper' issues causing the current situation, and he replied: 'Oh it's been deleted'," said Jennie. "And that's it, he didn't seem to be bothered by it."
Across the country, China had about 500 protests a day in 2012, but even when governemnt buildings are taken over protesters express support for the Communist Party.
*Thanks to privileged commenter Carl for the link to the Occupy Central manifesto.