Albuquerque Cop Caught on Dash Cam Saying He'd Shoot "Fucking Lunatic" in the Penis Hours Before Cops Fatally Shoot the Homeless Camper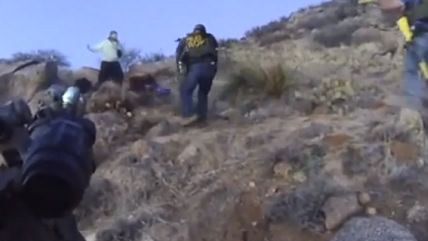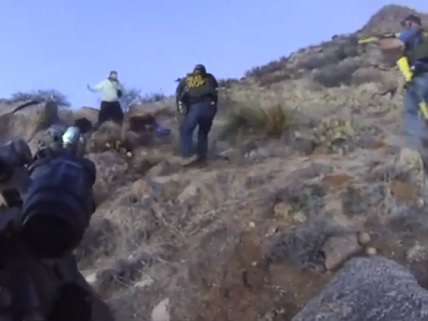 One of the objections police officers bring up to continuously operating body and dash cams is that during their shifts they should have some expectation of privacy when they're not engaging residents. It's why body and dash cams almost universally have on-off switches accessible to the officers using them.
The use of body cams can focus attention on questionable acts by police officers. Earlier this year in Albuquerque, N.M., for example, the shooting of homeless camper James Boyd was caught on a cop's helmet video, sparking protests across the state and bringing needed attention to the Albuquerque Police Department's history of police brutality and fatal shootings.
Now dash cam video from a State Trooper's patrol car was found to have caught a conversation with one of the officers involved in the James Boyd shooting, Keith Sandy.
The relevant portion of the transcript, via KOB4 in Albuquerque:
Sandy: What do they have you guys doing here?

Ware: I don't know. The guy asked for state police.

Sandy: Who asked?

Ware: I don't know.

Sandy: For this f***ing lunatic? I'm going to shoot him in the penis with a shotgun here in a second.

Ware: You got uh less-lethal?

Sandy: I got…

Ware: The Taser shotgun?

Sandy: Yeah.

Ware: Oh, I thought you guys got rid of those?

Sandy: ROP's got one…here's what we're thinking, because I don't know what's going on, nobody has briefed me…
In an internal interview, Sandy excused the comment as "locker room banter" and a "joke." Understandably the lawyer for James Boyd's family, doesn't see it that way. "It's chilling evidence and stunning that he has not been criminally indicted," Shannon Kennedy told KOB4. "He says to a state police officer 'that f'ing lunatic, I'm going to shoot him in the penis.' It's crystal clear and he says it with contempt in his voice."
Neither Sandy nor any other officer involved in the Boyd shooting have been indicted, and remain on paid administrative leave while an investigation continues to come to a conclusion.
Based on an investigation started in November 2012, this April the Department of Justice (DOJ) found "reasonable cause to believe that the Albuquerque Police Department is engaged in a pattern or practice of use of excessive force, including the use of unreasonable deadly force." The DOJ, Albuquerque, and the APD are now working on setting up federal monitorship of the department.