The Equalizer and Jimi: All Is by My Side
Denzel Washington kickstarts a franchise, Andre Benjamin illuminates a Hendrix biopic.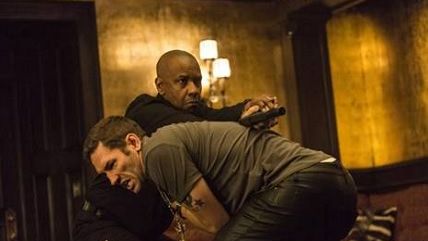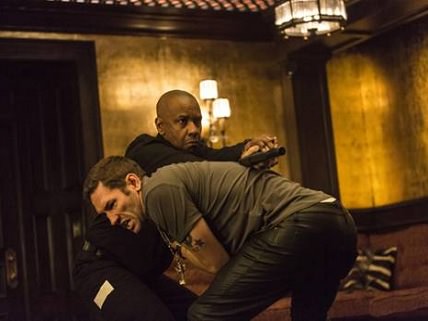 You know you're in for some stylish mayhem when Robert McCall, the deceptively mild-mannered hero of Antoine Fuqua's The Equalizer, rams a wine-bottle corkscrew up into the throat of a deserving creep and you see its curlicue tip wiggling around inside the man's screaming mouth. Yikes. And there's more – much more – where that came from.
Reuniting with Denzel Washington, who won an Oscar for his performance in Fuqua's 2001 Training Day, the director does a slick job of updating a 1980s TV series for a nastier age. Unusually for an action film, the story gets underway at a calm, measured pace. We see that Washington's McCall lives in monastic solitude in his Boston apartment, takes the subway to his lumber-humping job at a Home Depot-like warehouse (where the younger workers call him "Pops"), and spends his evenings quietly reading high-toned novels at a local diner. There he engages in paternal banter with a young prostitute named Teri (Chloë Grace Moretz), who stops by for time-outs between tricks. But when a beating by Teri's pimp puts her in the hospital, we learn that McCall also has an unexpected talent for meting out savage retribution.
Because he's actually a one-time CIA agent, wearied by the many bad things he was called upon to do for the Agency and now retired after the death of his wife. Seeking revenge for Teri, he finds himself confronting the city's Russian mob. This is bad news for them, as we see when McCall turns up at their headquarters and terminates several of them in a scene of spectacular violence. When word of this bloody wipeout reaches the gang's chieftain back in Moscow, a scary enforcer named Teddy (Marton Csokas) is dispatched to set things right by any means necessary. Although McCall is additionally preoccupied administering beat-downs to corrupt cops in league with the Russkis, he's ready for this lethal emissary, marshalling an array of surprises that ranges from high-tech surveillance gadgetry to knives and bombs and power drills.
Fuqua gives free rein to his gift for grisly carnage, but he balances it with humor (skipping the details of one skirmish in favor of a shot showing McCall simply wiping blood off a huge mallet) and with scenes establishing McCall's gentle concern for the story's underdogs – helping a chubby coworker sweat off weight in pursuit of a security-guard position, and coming to the aid of a restaurant owner plagued by vicious extortionists. Washington, with his charismatic gravity and flashing anger, naturally dominates the movie. But he gets memorable support from the rest of the cast, especially Haley Bennett, in a moving performance as another prostitute; Melissa Leo as McCall's old CIA colleague; and – in particular – Csokas, whose sadistic Teddy, with his cold eyes and menacing sneer, is terrifically despicable. ("A sociopath with a business card," one character calls him.)
The movie could have been trimmed back from its two-hour-plus runtime (a long stalk through McCall's warehouse workplace seems endless), but that's a quibble. The picture is a persuasive opening bid for a franchise (at the end we see McCall setting up a means to make regular use of his alarming skills, which is basically the point at which the old TV series began). Unsurprisingly, Equalizer 2 is already in the works.
Jimi: All Is by My Side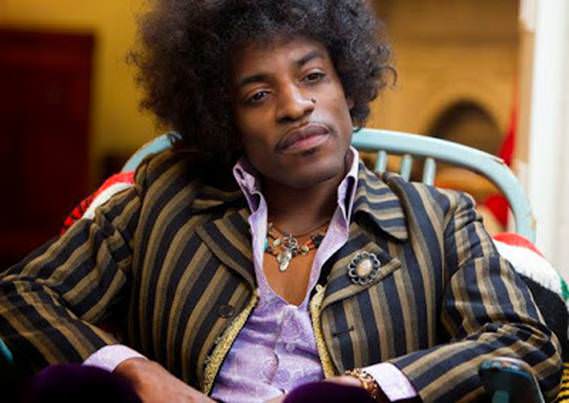 From its awful title (the Jimi was only recently tacked on) to its odd premise (telling the Jimi Hendrix story without any of Hendrix's trailblazing music), John Ridley's new biopic, which has been screening for more than a year on the festival circuit, would seem to have the key ingredients of a fiasco. That it's not is a major surprise. And the central reason it's not is André Benjamin, who channels the late guitarist's sweet, spacey persona with spellbinding precision.
Ridley, a writer best-known for scripting 12 Years a Slave, knew from the start that he'd be unlikely to secure music rights from the Hendrix estate, which is controlled by Jimi's sister, the intransigently protective Janie Hendrix. An earlier attempt to make a Hendrix movie – with Paul Greengrass directing and Anthony Mackie in the title role – crumbled after hitting this wall in 2010. So Ridley didn't even bother asking.
But Ridley's story is smaller-scale. It deals with just two years in Hendrix's life: 1966, when he was lifted out of smalltime scuffling in the clubs of Greenwich Village and transported to England to dazzle a more appreciative audience; and 1967, when he began his rise to stardom and got picked (by Paul McCartney) to return to the States and play the final night of the epochal Monterey International Pop Festival, the site of his legendary breakthrough.
Apart from its carefully delimited structure, the movie is also unusual in its substantial focus on two women who played significant roles in Hendrix's life. One of them, Linda Keith (Imogen Poots), was an expatriate British model who discovered Hendrix in a New York club, introduced him to LSD, counseled him to start singing onstage (he hated his voice), and set out to find him a manager. Keith talked Jimi up to Animals bassist Chas Chandler (Andrew Buckley), who was tired of touring and was looking to get into management. But Chandler – one of the few heroes on the business side of the Hendrix saga – had limited finances, and so felt compelled to bring in a partner, Animals manager Michael Jeffrey (Burn Gorman), a very dark figure in Jimi's life.
The other woman was Kathy Etchingham (Hayley Atwell), a London scene-maker who fell in love with Hendrix, took him shopping on Carnaby Street (we see him purchasing his iconic gold-braided commodore's jacket there), and also, according to the movie, serving as his occasional punching bag. (The real Kathy Etchingham has been insistently vocal in condemning this portrayal of their relationship as a lie.)
Also inserted into the story is a groupie named Ida (Ruth Negga). This character is based on Devon Wilson, another Hendrix love interest from a later period in his life. Ridley has said he shoehorned her into the man's earlier years here in order to provide Hendrix with a "girlfriend of color."
Poots and Atwell bring a warm glow to their characters, and they're given a couple of opportunities to shine. Atwell navigates a number of vivid emotional states with star-quality ease, and Poots has one especially affecting scene in which Hendrix quietly tells Linda that he's written a song for her. With a melancholy smile, she notes that a previous boyfriend, Rolling Stone Keith Richards, also wrote her a song – "Ruby Tuesday." "All these men writing songs to me," she says. "Then I go home and I listen to them alone."
The fact that Benjamin (OutKast's "André 3000") manages to center the movie playing such an essentially woozy character as Hendrix is an impressive achievement. He captures the man's fluttery naïveté with great charm, and he never sounds like a complete bubblehead, even when rambling on about "negative vibrations" and "our space brothers," or saying things like, "When the power of love takes over the love of power, that's when things'll change."
It's a shame he's not starring in a movie of broader scale and larger ambitions. Because this one, despite its honorable intentions, is a mess in several crucial ways. The editing is remarkably haphazard, with awkward cutaways to trivial details and discontinuous interludes; the cinematography is strangely soft-focus; and the music really is a problem. Benjamin is a champ at guitar-miming, but all we ever hear are cover versions of period songs that Hendrix was known to play (veteran LA session guitarist Waddy Wachtel provided the sub-Hendrix leads).
The most successful scene is a replication of a famous London concert in which Hendrix kicked off with a hastily slapped-together rendition of "Sgt. Pepper's Lonely Hearts Club Band." But another scene, in which Hendrix gets up onstage to jam with Eric Clapton's Cream, is soul-drainingly limp. And when he enters a recording studio for the first time, we only see him approaching the microphone. When we don't hear him playing "Hey Joe" (his first hit) or any of the songs that later appeared on his game-changing debut album, Are You Experienced?, it's hard to fend off a feeling of deep disappointment.
The movie ends at Heathrow Airport, with Hendrix and Noel Redding (Oliver Bennett) and Mitch Mitchell (Tom Dunlea), his bandmates in the Jimi Hendrix Experience, preparing to board a flight to California for the big Monterey gig. The worldwide renown that followed that appearance would of course make a great movie. This one, for all of its small pleasures, leaves us still waiting to see it.