China and America Climate Change Blame Game
Discord on who's responsible for fixing the weather at U.N. climate confab.
On Tuesday, United Nations Secretary-General Ban Ki Moon convened a Climate Summit in New York, where more than 100 presidents, premiers, and other assorted potentates duly issued their 10-minute statements about the need to do something to avert a climate catastrophe. The international community is supposed to complete a global climate agreement at a U.N. conference in Paris next year, and this summit was intended to move the world closer to that commitment to cut greenhouse gases and provide tens of billions in aid.
The statements at the summit made it clear that there is still a wide gulf between the developed countries and the poorer nations when it comes to who bears responsibility to act and who should pay for that action. For example, when U.S. President Barack Obama noted that America is on track to reduce the country's greenhouse emissions by 17 percent below their 2005 levels by 2020, he added: "We can only succeed in combating climate change if we are joined in this effort by every nation—developed and developing alike. Nobody gets a pass." He further observed that emerging economies—China, India, Brazil—are both growing rapidly and emitting ever higher levels of greenhouse gases.
In fact, a report earlier this month by the Global Carbon Project found that the United States, China, the European Union, and India accounted for 58 percent of global carbon dioxide emissions in 2013. In total, humanity emitted about 36 billion tons of carbon dioxide. Roughly speaking China emitted 10 billion tons; the U.S. emitted 5 billion tons; the E.U. emitted 3.6 billion tons; and India emitted 2.5 billion tons. China now emits more carbon dioxide per capita (7.2 tons) than does the European Union (6.8 tons). The U.S. emits 16.4 tons per capita; for India, the figure is just 1.9 tons per capita.
Adding that we "have to set aside the old divides," Obama noted that he had just spoken with Chinese Vice-Premier Zhang Gaoli, to whom he reiterated his "belief that as the two largest economies and emitters in the world, we have a special responsibility to lead. That's what big nations have to do." In its statement at the Summit, the European Union more or less backed President Obama's view, arguing that the pending global agreement to be reached in Paris "must involve all Parties in a comprehensive framework to reduce emissions—reflecting science but also today's political and economic realities." Among those realities is that back in 1992, when the United Nations Framework Convention on Climate Change (UNFCCC) set out everyone's obligations with respect to cutting carbon dioxide, China accounted for only 3 percent of the world's emissions.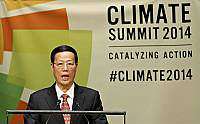 In his statement, the Chinese vice-premier swiftly made it clear that his country has no intention of setting aside the old divides—specifically, the divide in the UNFCCC that requires developed countries like the United States, Japan, Canada, Australia, and the members of the European Union to cut their emissions while imposing no such obligations on the developing world. Zhang insisted, "We need to stick to the UNFCCC framework and follow its principles." Translation: China's minimal obligations must be maintained. Zhang added, "Developed countries need to intensify emission reduction and fulfill their commitment of annual financial support of 100 billion U.S. dollars and technology transfer to developing countries by 2020." Translation: Don't like the weather? Don't blame us; extort guilty Western countries.
In a March 2014 submission to the United Nations, the Chinese government strongly expressed its view that developed countries should commit to cutting their greenhouse gas emissions 40 percent below their levels in 1990 by 2020. Such a cut would lower U.S. emissions by about 2 billion tons. Developing countries, meanwhile, can aim for other targets such as increasing their carbon intensity. Carbon intensity is basically the amount of carbon dioxide emitted per dollar of GDP produced. Zhang reiterated China's pledge to cut its carbon intensity by 40 to 45 percent by 2020 from its 2005 level, noting that it had already achieved a 28 percent reduction.
Assuming that China's economy grows at 7 percent per year, futurist Brian Wang over at the Next Big Future calculates that meeting that carbon intensity goal would actually allow China's carbon dioxide emissions to increase from about 10 billion tons today to as much as 14.7 billion tons by 2020. China's emissions increases would nearly equal current U.S. carbon dioxide emissions, and they would be almost two and a half times greater than the two billion tons it argues that the U.S. is obligated to cut between now and 2020.
So the world's two biggest emitters of greenhouse gases plainly don't agree on who should cut, how much they should cut, when they should cut, and who should pay for the cuts. In his summary remarks on the Summit, General-Secretary Moon claimed that the leaders who met there "committed to finalize a meaningful, universal new agreement" next year. As it stands now, that amounts to little more than a pious hope.