L.A. School Cops Give Up Grenade Launchers … But Keep the M-16s, MRAP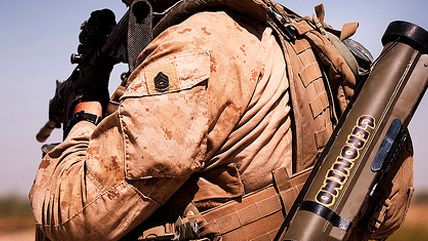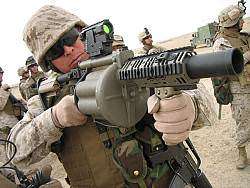 One week ago, courtesy of MuckRock's enormous database, I highlighted the fact that the Los Angeles Unified School District Police Department acquired three grenade launchers along with other military gear, and questioned how well this squares with the department's mission to "provide a safe and tranquil environment in which the educational process can take place."
This week, due to mounting pressure, the cops who serve the nation's second-largest school district are giving up some equipment. The Los Angeles Times has details:
In a letter to the Department of Defense's logistics agency, a coalition of education and civil rights groups said the presence of weapons on campuses will only intensify existing tensions at schools and exacerbate punitive atmospheres that criminalize and stigmatize students of color.

Deborah Fowler, deputy director of Texas Appleseed, a social justice nonprofit, said in a statement that other more common weapons used by officers and security guards, such as Tasers and pepper spray, have been misused in schools. Much of this excessive force is targeted at students of color and those with disabilities, she said.
So, the department said uncle and has agreed return the grenade launchers. The cops are not budging on the other stuff they got, though. They insist that the mine-resistant ambush-protected vehicle and 61 M-16 rifles they've got in the playground arsenal are "essential life-saving items," so those are here to stay.
One L.A. school officer who declined to be named assured Reuters that the MRAP, a vehicle that weighs upward of 14 tons and was designed to fight asymmetrical warfare against Iraqi insurgents, would be used only in "very specific circumstances." He wouldn't elaborate.
Schools and small towns acquire all these sorts of war toys through the Defense Department's 1033 Program, which since 2006 has for the cost of shipping given domestic law enforcement some 80,000 rifles, 12,000 bayonets, $3.6 million worth of camouflage, and much more. In total, the program has transferred over $5 billion worth of surplus military equipment.
Reuters notes that "President Barack Obama ordered a review of the program out of concern at how such equipment had been used during racial unrest in Ferguson, Missouri, following the shooting death of a black teen by a white policeman last month." Likewise, from the Associated Press, Congress is "considering doing more to monitor and hold accountable police departments across the United States that obtain sophisticated military equipment from the federal government."