Let the Pooches Romp! Austin Cops Get Trained to Avoid Shooting Dogs.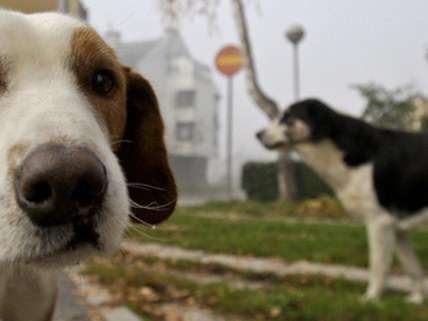 Most cop-and-dog stories end with a bang—an all too literal one as a pooch wanders within pistol range of a police officer who thinks pats on the head should come in 9mm increments. But Austin, Texas, is trying to get ahead of the curve on the whole puppycide issue. Two years ago, after a series of high-profile incidents involving the unnecessary shooting of dogs, the city's police department revised its policies to require "an imminent threat of bodily injury" before lethal force is used against canines (the old standard allowed shooting if a dog was merely perceived as dangerous). The hour-long video course the Austin PD attached to the policy revision apparently didn't do the trick, so the department is now putting its entire, 1,700-strong force, through a hands-on class. Several neighboring towns are following suit.
At the Austin American-Statesman, Esther Robards-Forbes writes:
[I]n the wake of several high-profile dog shootings, the Austin Police Department decided this spring to put all of its sworn officers through Osorio's four-hour, hands-on class. Leander opted for the eight-hour course last fall, and Round Rock adopted the same eight-hour course in June after two dog shootings this year, one of which has resulted in a lawsuit against the department. Officers from Sunset Valley and Liberty Hill have piggybacked onto some of the training sessions, and Cedar Park is considering implementing the training after an officer shot a charging pit bull in July.

All of these departments have chosen the training voluntarily. Activists, many of whom have lost dogs to police shootings, plan to push a bill in the next legislative session to require such training statewide.
Training for dealing with canines became mandatory for Colorado police officers last year, but the law in that state allows for three hours of online instruction—not quite the same thing as actually working with dogs. Still, the push to teach police non-lethal means for dealing with dogs is picking up steam, no doubt fueled by unpleasant headlines, pissed off members of the public, and flurries of expensive lawsuits.
If I had to bet, I'd say that lawsuits play the biggest role. The American-Statesman article mentions a lawsuit against Round Rock, and the tab can add up quickly. Pembroke Pines, Florida, settled for $20,000 after a pointless dog shooting, Riverside, California, paid out $30,000 after an officer needlessly shot a dog, LaGrange, Missouri, wrote a check for $50,000, Des Moines, Iowa, coughed up $51,000 after a similar incident, and Costa Mesa, California, got whacked for $225,000 when a police officer unloaded 15 rounds on a mutt while chasing two boys for the high crime of riding bicycles without helmets.
Even the U.S. Department of Justice has made efforts to remind police officers that pistol targets don't come with collars and wagging tails. Through its Community Oriented Policing Services office, the DOJ sponsors a Police & Dog Encounters website that, among other things, warns that there can be pricey legal consequences for emptying a magazine into Spot.
Austin apparently got the message.