The IRS Won't Say Why It Wiped Lois Lerner's Blackberry After Congress Began Questioning Her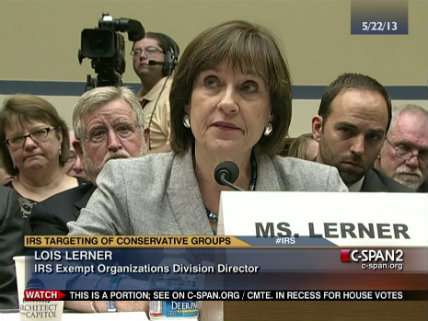 The Internal Revenue Service's (IRS) excuse for why it can't provide all of ex-official Lois Lerner's emails to congressional investigators has never quite made sense. The tax agency says Lerner's hard drive crashed, and as a result many emails to outside organizations—like, for example, the White House—went missing.
But why weren't these emails backed up centrally? And wouldn't at least some of them have been accessible on Lerner's other devices, like her Blackberry?
It seems there may have been some sort of backup after all. According to Judicial Watch President Tom Fitton, IRS representatives told the non-profit watchdog organization that agency communications are in fact backed up by the federal for emergency purposes, in case of a major catastrophe, but recovering from that system would be too difficult. There's no official statement from the IRS to this effect, and it's not clear whether the IRS directly confirmed that Lerner's emails, specifically, were retrievable.
But Fitton's story suggests what has seemed likely all along, despite IRS denials to the contrary: that there was some sort of backup system in place. If so, then it seems likely that emails sent and received by a senior IRS official—Lerner was the head of the agency's tax exempt division—would have been captured by the system. That would mean that while they might be difficult to dig up, recovery would not be impossible.
And then there's the matter of Lerner's Blackberry, which presumably would have had some emails stored on it.
While overseeing a case against the IRS by Judicial Watch, a District Court Judge told the agency to provide details on its recovery efforts following Lerner's hard drive crash. Here's what happened next, according to The Washington Post:
In response to the judge's order, a top IRS official said in a signed declaration that the agency has no record of attempting to recover data from the mobile device.

IRS attorney Thomas J. Kane said in a separate declaration that the agency "removed or wiped clean" information from the Blackberry in June 2012, shortly after congressional staffers questioned Lerner about the targeting allegations and in the same month that the IRS inspector general began examining the issue.

Kane offered no explanation for why the IRS "removed or wiped clean" the data, and the IRS did not respond to the same question when asked by The Washington Post on Wednesday.
There may be a reasonable explanation for all this. But if there is, the IRS has yet to provide it, and in fact has refused when asked to do so. Combined with all the other suspicious and convenient omissions, lapses, and losses related to this case, it does make one wonder if perhaps there isn't a reasonable explanation to be offered.