Brothers Exonerated After 30 Years in Jail, Alaskan Dem in Trouble for 'Willie Horton-style' Ad, Duck Dynasty Ready for War with ISIL: P.M. Links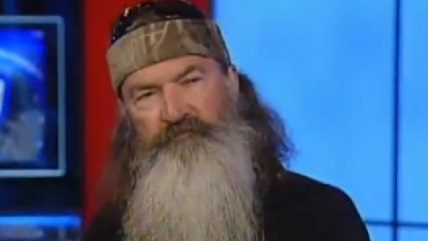 Fox News

Half-brothers Leon Brown and Henry McCollum were set free this week after DNA evidence overturned their 1983 convictions for rape and murder. They spent 30 years in prison.

Sen. Mark Begich (D-Alaska) yanked a controversial re-election campaign ad after much criticism. The "Willie Horton-style" ad accused Begich's Republican challenger, former Attorney General Dan Sullivan, of letting convicted sex offenders escape with light sentences, causing the death of an elderly couple.
A New Jersey town will not rename its John F. Kennedy Center the Barack Obama Center after all. Some people were offended.
If it comes to war with ISIL, foreign policy expert Phil Robertson (of "Duck Dynasty" fame) is ready, he told Sean Hannity.
Polls show resurgent support for Hamas among Palestinians.
The Russian sex geckos all died, because the universe is cold and lonely and cruel.
Follow Reason and Reason 24/7 on Twitter, and like us on Facebook. You can also get the top stories mailed to you—sign up here.