Sin City: A Dame to Kill For
Another all-star helping of blood and bullets from Robert Rodriguez and Frank Miller.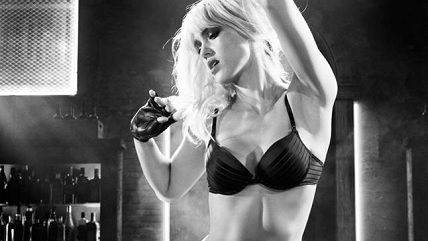 Not a lot has changed in the nine years since our first visit to Sin City. Guns still bark; men still crumple and bleed; and the women still dress like hookers, when they dress at all. The night is black (it's always night) and the rain still stylishly persistent. 3D has come to town, but apart from that it's the same rotten place we remember—fun at first, and never less than ravishing to look at. But long before it's time to leave, we've started to feel as beaten-down as many of the characters.
A Dame to Kill For isn't much more than a reprise of the original Sin City, with all of its shadowy atmosphere, gaudy dialogue ("the pavement rises up to give me a big sloppy kiss") and snarling brutality. Filmmaker Robert Rodriguez once again re-creates the hard-boiled imagery of Frank Miller's groundbreaking comics with obsessive fanboy fidelity. Miller himself is back onboard, again credited as co-director, whatever that might mean, and Rodriguez has once more shot and edited the picture himself (and collaborated on its retro-noir score, this time with Carl Thiel). The movie's familiar pictorial technique is still striking, with the actors filmed against wall-to-wall green screens to allow the later insertion of grand, moody digital backgrounds. And the drained black-and-white palette, with passing jabs of color, is ideal for Miller's hyper-grim material.
But the picture is distractingly crowded. It leaps around among four of Miller's stories (two of them from the comics, two written for the movie), and the resulting start-and-stop effect works against the establishment of narrative momentum.
The first story is a pre-credits sketch in which we find the genial bruiser Marv (a returning Mickey Rourke) whomping on a group of snotty frat boys. Soon there's a cocky young gambler named Johnny (Joseph Gordon-Levitt), who has come to town to fleece the corrupt Senator Roark (Powers Boothe again) in a high-stakes backroom poker game at Kadie's strip club. Then we have the seedy P.I. Dwight (Josh Brolin stepping in for Clive Owen), who's being drawn into the evil machinations of his ex-girlfriend, Ava (Eva Green), who wants him to relieve her of an abusive husband (Marton Csokas). Through all of this, we follow the bitter Nancy (Jessica Alba), a whip-cracking dancer at Kadie's, as she plots revenge against Senator Roark for his role in the earlier death of her guardian, Hartigan (Bruce Willis, returning as a mopey ghost).
Alba is too mild a presence to be persuasive as a hard-boozing bar girl. But Rourke, under a mound of blockhead makeup, again brings something like warmth to the proceedings in between bouts of busting heads, gouging out eyeballs, and blowing away creeps with his twin shotguns. And Boothe, with his nasty sneer and demonic eyes, is wonderfully detestable (especially when cracking a man's fingers with a pair of pliers). Also passing through, to varying effect, are Rosario Dawson as a tough-but-tender prostitute; Christopher Meloni as a good cop going bad; Christopher Lloyd as a gangland doctor; Dennis Haysbert replacing the late Michael Clarke Duncan as the fearsome bodyguard Manute; Ray Liotta, playing yet another scumbag; and, in a very quick bit as a waitress, Lady Gaga (who also appeared in Rodriguez's last Machete movie).
The picture is completely owned, however, by Eva Green, whose trademark nakedness is offered in generous measure. Green is a conniving bitch in the classic noir tradition, prepared to take a punch in the face as prelude to a kiss, and to say whatever it takes to get her way. ("I'm a selfish slut," she meekly admits to Brolin's lovesick P.I.) Rodriguez gives her plenty of screen time, and makes her the focus of some of his most arresting images (there's a gorgeous overhead shot of her floating nude in a steamy swimming pool). The movie might have been more sleekly engaging if the director(s) had trimmed away the rest of the stories and concentrated entirely on hers.
Like Sin City, this movie is a technical triumph. But it's overwrought, and even at an hour and 40 minutes, it feels too long. Like its predecessor, it's basically a brilliant stunt, here repeated. Anyone who marveled at the first film might wonder why they should be expected to marvel anew.