If This Isn't a Russian Invasion of Ukraine, What Is It?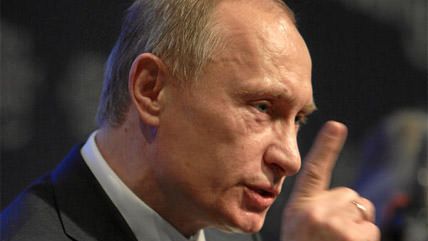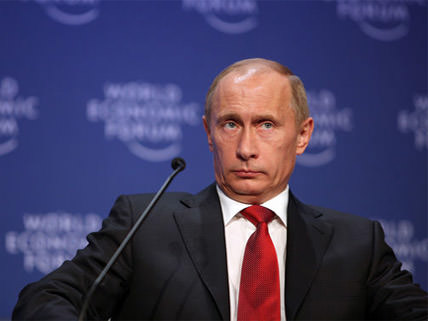 Damn, the border situation is getting bad. Mexico just sent around 200 mysterious, mostly empty cargo trucks across the border and into Arizona. They promise it's "humanitarian aid," though Gov. Jan Brewer has been insisting for 10 days that without Red Cross approval, such action constitutes an invasion. Mexico assures that it really just wants to help, but past events suggest otherwise: Mexico already seized New Mexico, but we've declared that water under the bridge, since a lot of New Mexicans speak Spanish and historically it was their turf. And now, in Arizona, there's evidence that Mexico has been helping the militant drug cartels wreak havoc for months. Some cartel members have admitted to being mercenaries, and there are satellite images with evidence of rockets being launched from Mexico into Arizona, and most recently a column of those Mexican military vehicles guarding the trucks entered Arizona and battled with its forces.
Why is the world so hesitant to admit that this is an invasion? Is it because Arizona is geopolitically small potatoes, and not stepping on Mexico's toes is more strategic?
Of course, none of this is actually happening along the southern U.S. border, but it is happening right now along the border of Ukraine and Russia.
Sweden's foreign minister claims that the trucks are "following units of [Russia's] 76th Airborne Division, " but that hasn't been confirmed by other sources. Radio Free Europe reports on the trucks, which are allegedly being driven by trained military personnel:
Ukrainian military spokesman Andriy Lysenko said 90 trucks had entered Ukraine without agreement or participation of the International Committee of the Red Cross (ICRC), in violation of agreements between Ukraine and Russia.

"We consider this a direct invasion by Russia of Ukraine," Ukrainian Security Service chief Valentyn Nalivaychenko said in a separate statement to journalists. However, he said Kyiv would not use any force in an effort to avoid "provocations."

The trucks began to move shortly after Moscow accused Ukraine of creating "artificial demands" and warned it not to try to halt the convoy, which Kyiv has voiced concerns could be used to supply pro-Russian rebels with weapons.

"All excuses to delay the delivery of aid to people in the area of the humanitarian catastrophe have been exhausted," the Russian Foreign Ministry said in a statement.

"The Russian side has decided to take action. Our convoy carrying a humanitarian cargo is starting to move in the direction of Luhansk," it said, referring to a provincial capital held by the pro-Russian separatists.

The ICRC, whose participation was meant to assuage Ukraine's concerns, said it was not escorting the convoy "due to the volatile security situation."

"We've not received sufficient security guarantees from the fighting parties," the ICRC said on Twitter, adding that the Red Cross team in Luhansk had reported heavy shelling overnight.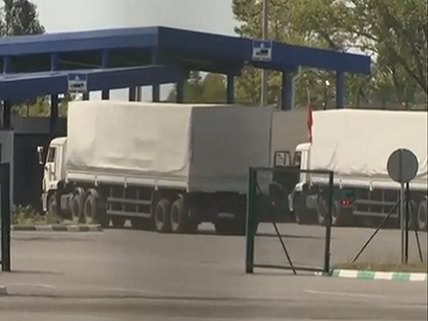 The New York Times meekly pronounces: Russian Trucks Cross Border Without Assent of Ukraine. "The United States and its European allies have warned that any crossing of the border by Russian military vehicles, even under the pretext of protecting the aid convoy, will be regarded as an invasion," explains Andrew Roth of the Times, but won't himself say "duck" despite all the quacking and waddling going on.
The Guardian: Russian Convoy Crosses Border Into Ukraine Without Permission. The paper calls the convoy's action as "controversial," as if it were a Miley Cyrus concert and not military action.
By contrast, The Interpreter, which has expert policy analysis from the Institute for a Modern Russia and regularly sympthazies with Russia, writes:
There are perhaps no good reasons left to trust the Russian narrative on Ukraine. …

Why would Russia stop the inspections? Why would they not allow the Red Cross to take control of these vehicles? Why would the vehicles be mostly empty (Russia's explanationmakes little sense and contradicts their statements that hundreds of tons of aid are on the move)?
War is foggy and Russia has deliberately obscured facts about its assault on Ukrainian lives and independence for months in order to make it all the foggier. None of this is to say that any other nation must come to Ukraine's defense, but it is wrong to pretend that today's border crossing is not part of a Russian invasion.
UPDATE: "Russian artillery support — both cross-border and from within Ukraine — is being employed against the Ukrainian armed forces," says a NATO official, according to another Times article. NATO has condemned the convoy's unapproved action.