Police SWAT Lobbyists Mobilize to Cover Their Assets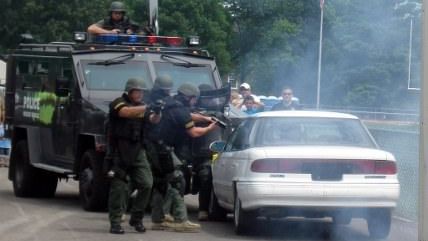 (Inventorchris / photo on flickr)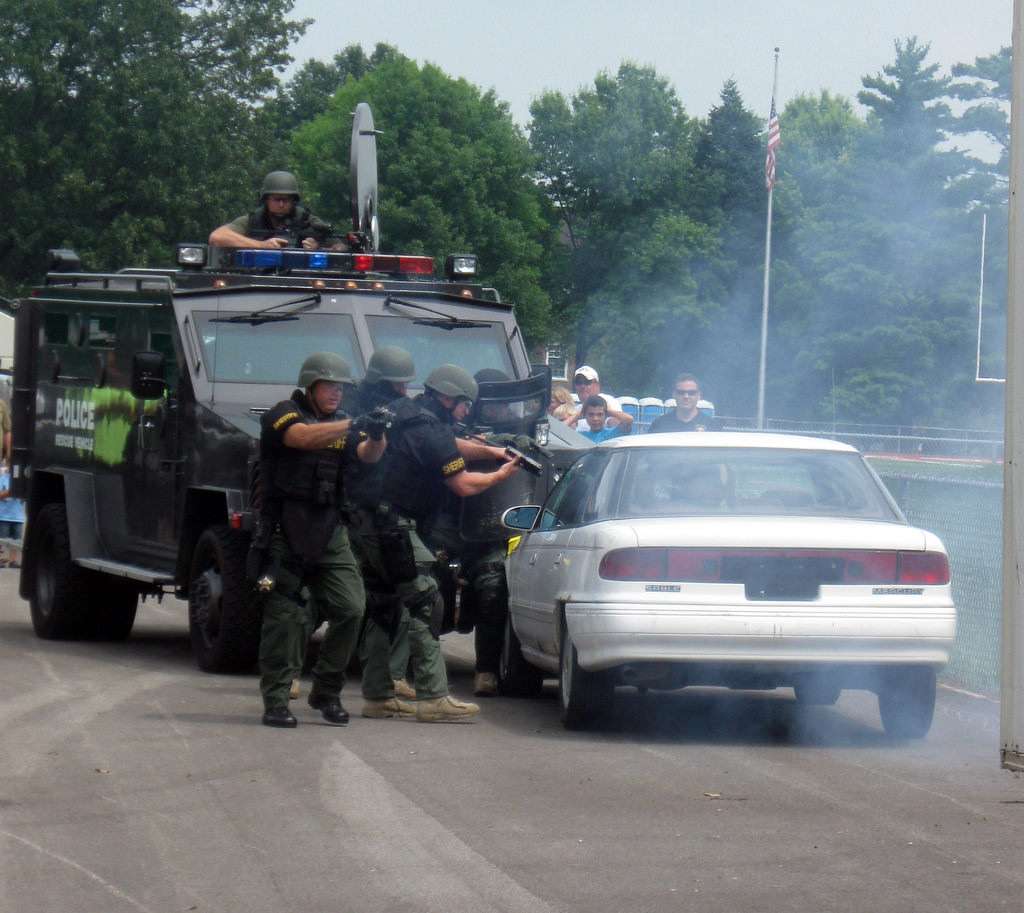 In the wake of the heavily militarized police response to community activism and rebellion in Ferguson, Missouri, there has been drastically increased public attention to the absurd levels of armament being handed over by the federal government to local civilian law enforcement agencies.
As a certain level of outrage takes hold, lobbyists for SWAT teams across the country have swung into action to protect the flow of sweet federal military armament heading to police station near you. From The Daily Beast:
This week, the National Tactical Officers Association, the lobbying group for 1,600 SWAT teams across the country, emailed all legislative staffers in the House and Senate to express that they shared in "our nation's grief" over the events in Ferguson, Missouri.

But their ultimate message was unmistakable: Don't take away our gear.

"The police have to be one step ahead of the criminal element, have to be prepared for the worst-case scenario. You don't want a community to be taken over by one or many criminals," NTOA Executive Director Mark Lomax explained to The Daily Beast. "We're definitely for equipping our law enforcement officials out there properly, with proper training and proper policies."
After more than 30 years of fearmongering that drug lords are going to take over all our cities and suburbs, does anybody actually buy that argument anymore? And, of course, we're not even talking about high-crime communities. Even though they're 15 miles apart, Ferguson, Missouri, is not at all like crime-riddled East St. Louis, Illinois.
We should expect these kinds of arguments to attempt to distract us from the real issue of overarming police departments and overusing SWAT teams. In Los Angeles, in the midst of consideration of whether to press charges against a highway patrol officer who beat up a woman on the side of the freeway and an agreement to a $5 million settlement to the family of a man killed by the Los Angeles Police Department following a high-speed chase, the LAPD credits a BearCat for protecting police as they dealt with a violent shootout earlier in the week.
I doubt many folks would argue that police shouldn't have the tools to defend themselves from actual violent criminals. But this argument that police have to be constantly prepared for the "worst-case scenario" causes police to react to everything as though the worst-case scenario is likely to happen. Yesterday, LAPD's Internet Crimes Against Children Task Force sent an entire heavily armed team to arrest one guy for suspicion of child porn possession. Maybe they figured he was potentially a violent threat because he was a retired Los Angeles County sheriff's deputy?
In response to complaints that Mine Resistant Ambush Protection (MRAP) trucks have the effect of intimidating the population, police reps take a familiar and at this point laughable "If you've done nothing wrong …" position:
"The presence of an MRAP for defensive positioning should not unnerve a law-abiding citizen," responded Jon Adler, the national president of the Federal Law Enforcement Officers Association.
Tell that to the folks in Ferguson who had guns trained on them and got gassed and shot with rubber bullets for the scary, threatening act of walking around unarmed with their hands up or holding signs. When heavily armed police have the power to just decide who is and is not "law-abiding," there is plenty to be unnerved about.