Could More Fergusons Happen?
This is a country that calls out SWAT for charges of "barbering without a license."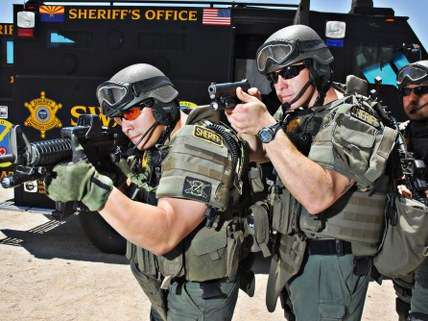 Could something like Ferguson happen in Virginia? Probably, sadly, yes.
Michael Brown isn't the first unarmed young black man to be shot by a police officer, and he won't be the last. Some people seem to think Brown had it coming, because he might have been involved in a convenience-store robbery. Well, the courts are the proper venue to decide guilt—and they usually don't sentence first-time offenders to summary execution. But you can find coverage of many other incidents involving young men who were guilty of absolutely nothing.
Still can't work up any empathy for a young black male? How about a young white female? Virginia recently reached a $212,500 settlement with Elizabeth Daly, the U.Va. student who was attacked by plainclothes ABC agents after she bought a case of bottled water. (They thought it was beer.) The ABC itself concedes one agent drew his gun and another tried to smash her car's window with a flashlight. You can imagine how that situation could have turned tragic in an instant.
It's hard to see any good in the death of Brown at the hands of a Ferguson, Mo., police officer, or in the ensuing civil disturbances. But the episode may have two small silver linings. The first is a national conscience-elevating about the peril faced by young black men. The second is an awakening to the danger posed by militarized police forces—an issue that, before Ferguson, was mostly discussed only in libertarian and civil-libertarian circles.
Many Americans have been stunned by the scenes of Ferguson officers in military combat gear, atop military combat vehicles, pointing military combat arms at unarmed civilians. But the development is not new. Over the past couple of decades local police departments have been loading up on surplus Pentagon materiel such as MRAPs (mine-resistant, ambush-protected armored vehicles), machine guns, silencers, flashbang grenades, and even grenade launchers. Through its LESO—law enforcement support office—and related programs, the Pentagon has handed out more than $5 billion worth of such gear to local agencies.
The handouts began as part of the war on drugs. After 9/11, the rationale shifted—with sometimes comical results. In the small Indianapolis suburb of Morgan County, a police sergeant explained the need for an MRAP this way: "You have a lot of people who are coming out of the military that have the ability and knowledge to build IEDs and to defeat law-enforcement techniques." So the military is handing out military gear to protect the police from … the military?
But wait, there's more. Currituck County, N.C., (pop. 24,000; its last homicide was more than two years ago) is now the proud owner of an MRAP—even though, at 18 tons, the vehicle weighs too much to cross some of the county's bridges. In those cases the sheriff says he'll use Humvees instead. Currituck's is one of more than 160 MRAPs handed out just between August and December of last year.
When localities can't get their hands on military surplus, they often go out and buy war materiel on their own. As reported in this column three years ago, Warren County, Va., bought an 8-ton, steel-plated Lenco BearCat with chemical, biological, and radiological sensors. Bucolic Warren County has a population of 40,000 and a homicide about once every three years.
At the State Fair of Virginia last year, Caroline County—population 22,000—showed off its own armored personnel carrier. "Until recently," a county information sheet explained, "the Caroline County Sheriff's Office was one of the few remaining localities in the region without some sort of armored personnel carrier." Got to keep up with the Joneses.
Along with military equipment, local police departments also have adopted military tactics such as no-knock, dynamic-entry raids by SWAT teams. In 1981 there were 3,000 such raids. Now there are more than 80,000 a year.
Has a profusion of drug lords and terrorist masterminds across the U.S. driven that growth? Not exactly. One review of cases from 2011-2012 in which SWAT teams were dispatched found that in 79 percent of them, the teams were deployed simply to execute a search warrant. And as The New York Times reported in June: "Masked, heavily armed police officers in Louisiana raided a nightclub in 2006 as part of a liquor inspection. In Florida in 2010, officers in SWAT gear and with guns drawn carried out raids on barbershops that mostly led only to charges of 'barbering without a license.' "
Claire Gastañaga, head of the Virginia ACLU, notes that police departments are supposedly civilian agencies. But if they are going to act like military units, then they need the sort of civilian oversight the U.S. military is subjected to. Yet at present, Virginia has nothing like Maryland's requirement that law-enforcement agencies report statistics about how often they deploy SWAT teams. The commonwealth should correct that deficiency.
The state also should require that the purchase and acquisition of surplus military equipment receive authorization from civilian authorities, such as city councils or boards of supervisors, which could ask for justifications stronger than the supposed threat from IEDs—or renegade hairstylists. Virginia's barbers, after all, tend to be quite well-behaved.