Ferguson Pledges to Look Into Dash, Vest Cameras for Police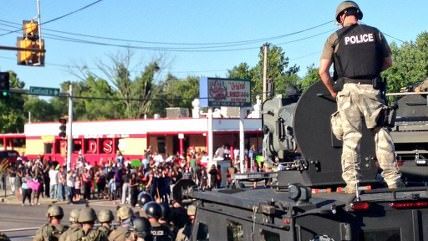 (Ryan J Reilly/Huffington Post)
The City of Ferguson has put out a statement today calling for peace and calm and "letting justice take its course" (suggestion: set a better example for the whole "peace and calm" component). In addition, they're promising to explore some changes to the department, much of which is embracing the racial component of the problem (trying to recruit more minority officers) and some of which will probably actually be counterproductive (more school resource officers means more kids getting arrested for minor crimes, guys).
But the letter does also promise to get vest and dash cams for their police forces. Rialto, California, when not making national news for asking middle-schoolers to debate whether the Holocaust happened, has made national news for making officers wear vest cameras, reducing the use of force by police and complaints against the police.
Read the press release below, courtesy of Atlantic Wire. (I attempted to access the city of Ferguson's official web site to see if they have any other relevant statements about the current situation only to get a notification that the site is not available).