More Protests in St. Louis, White House Welcomes Lobbyists (Even More), Cops Killed Bank Robbery Hostage: P.M. Links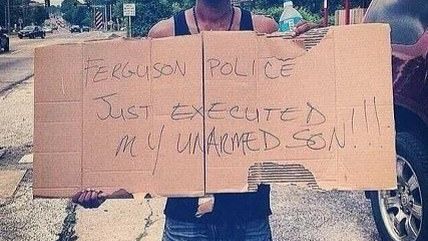 (blueCHEDDAR / photo on flickr)
Credit: blueCHEDDAR / photo on flickr

More protests are taking place today in St. Louis over the fatal police shooting of Michael Brown. Authorities had said they would be releasing the name of the officer who shot the 18-year-old today, but that has not happened because of threats on social media. The FAA has also banned low-flying aircraft over Ferguson on behalf of law enforcement.

A mother who had been taken hostage during a bank robbery in Stockton, Calif., was killed not by the robbers, it turns out, but from police gunfire. She was hit about 10 times (all police) during a pursuit where both sides shot at each other.
The White House is reversing one of its bans on lobbyists (not that the administration isn't full of them anyway) and allowing them to serve in "advisory" capacity on industry boards and commissions across the federal government.
President Barack Obama seems to think he may have the opportunity to nominate a Supreme Court justice before his term ends. Or he at least thinks it's a way to try to motivate embattled Democrats to fight to retain control of the Senate in November.
A helicopter carrying aid (as well as a New York Times journalist and a freelance photographer) crashed in Iraq, killing the pilot.
Barneys has agreed to pay $525,000 to settle claims it racially profiled black and Latino customers in its efforts to fight shoplifting and credit card fraud.
Follow us on Facebook and Twitter, and don't forget to sign up for Reason's daily updates for more content.