As LGBT Rights Flourish, the Gay Games Have Enduring Value to the Community
Everyone, straight or gay, bleeds when thrown off a thousand pound animal.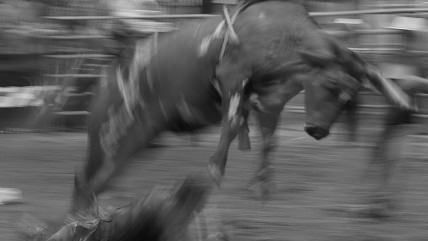 The ninth Gay Games (GG9) kicked off in Cleveland and Akron, Ohio, this weekend. It's the world's largest LGBT sports and culture events, boasting over 50 countries represented, more than 35 sports played, and around 7,000 athletes (10 percent of whom are straight) competing. But as the LGBT world grows ever more established, a big question looms over the Games: Why are they still relevant?
"We get that question a lot," acknowledges GG9 Executive Director Tom Nobbe. Times have changed and the impetus of the community has, too, as its uphill battle for civil rights begins to level out, and popularity presents different challenges for gays. Last year was the gayest year ever in the U.S., with 18 states recognizing gay marriage. 2014 is moving toward legislative equality at an even quicker pace.
President Barack Obama made a surprise video announcement at the GG9 opening ceremony, and the county's Republican Party issued a warm welcome, both of which were unthinkable acts of outreach the last time the Games were stateside back in 2006. But, politicians are often playing catch up with other vehicles of change.
Popular culture is a big force behind shifting views. "There is absolutely more opportunity to participate in mainstream sport and culture events," says Nobbe. Countless athletes have come out of the closet since the Games began in 1982. In the last year, plenty of other prominent talents, from actors to activists, have felt more comfortable expressing their identies with increasing public support.
Money is an important engine for changing views, too. "I know why Obama evolved on gay marriage," joked one Federation of Gay Games official, "It wasn't because he really cared, maybe, but because the Republicans wouldn't give an economic stimulus, so he said, 'Let's have gay marriage, because all these weddings cost so much money.'" Jokes aside, since the Games are funded (mostly) by private organizations, Cleveland and Akron scrambled for the opportunity to host them, embracing the chance to rebrand as gay tourist destinations. These rustbelt towns were enticed by the promise of an economic boom to the tune of $50 million, which like all big events, is almost certainly an exaggerated estimate—but, that's just it, the Games aren't a niche celebration, they aren't an exception; they're like all other big events, talked about in the same monetary terms as the return of Lebron James or the Cleveland. They might even be less controversial than that. 
None of this is to say that being mainstream is the end of troubles for the LGBT community. In an arena with the punchy, not unpleasant smell of county fair fry grease and ranch animals, the first ever Gay Games rodeo event took place this Sunday. Ed Barry, President of the International Gay Rodeo Association (IGRA) tells Reason that as homosexuality becomes normalized by things as mundane as dating apps, the environment he knew is being shaken up. Says Barry, "Now that we're weaving so much into the general fabric of society, it becomes more difficult to attract people who are coming for camaraderie." Although young people enjoy attending events, through which the IGRA carry on both cowboy culture and gay culture, the new generation didn't face the same kind of adversity—denied by countless venues, hassled by cops and courts—he and other older folks did, just to put on their rodeos. Without these challlenges, young members of the community just don't have the same drive to be involved.
To be sure, overcoming its historical challenges isn't something the community would want to relive. Sonny Koebler, a bull rider, says the institutions like the IGRA and Gay Games do remain relevant and important because of their connection to LGBT history. Both organizations have fought discrimination and preserve the memory through their events. Koebler says they wouldn't want to lose touch with the fact that "when these organizations started, there was no ability for any figure in any sport to come out."
And, the struggle does continue in some ways. Koebler regularly risks being gored or trampled just like any other rider, but says rodeo is "still unfortunately a sport in the straight world with a lot of barriers to overcome." The Games and the IGRA help by creating a platform by which people realize "the gay community is as diverse as the straight community. There are as many gay boys and girls born out in the sticks and raised around cattle as there born in urban areas, and I think a lot of people don't get that. The Gay Games really shows that off" to not only the straight world, but other parts of the LGBT world that had never heard of a gay rodeo.
Cleveland Mayor Frank Jackson put it another way: "It's easy to hate someone you demonize, but it's very difficult to dislike someone you know."
It's this proximity, this familiarity of the Games that make them not only meaningful, but successful in a way that the pomp-and-pretense-filled Olympics cannot be. Frankly, it makes for a more engaging watch, too. Some Games' athletes are record-breaking pros, but many are not. They're on a pedestal, but one that appears within reach. You're close enough to see the unpolished humanness of their struggle when they slip, hit the ground, and bleed, and those who excel are illuminated against the backdrop of all that grit. You don't get this kind of context with Usain Bolt. Yeah, he's faster than the five other fastest Olympian sprinters on Earth, but what does he compare to your friends who ran in college? And, honestly, as fun as it is to get gung-ho about quirky Olympic sports like curling or badminton every four years, watching GG9 athletes competing in pool at the local Dave & Busters hits closer to home. It's something any American could relate to any day of the week.
Some outside challenges remain, even in the state hosting GG9. A federal court is currently hearing a case on Ohio's gay marriage ban, but from the judges' statements, it seems that ban won't last much longer.
And while demonization in the U.S. dissolves, the Games are still significant to the LGBT community internationally. At GG9, the entrance of Russia's team elicited the loudest applause of the opening ceremony, and its captains received an award for their daring resistance to their homeland's oppressive anti-gay laws. Such support and sanctuary is unquantifiable.
The Games don't pack up and ship out of Cleveland until this Sunday and there are plenty more competitions and performances until then. After that, they're out of North America until 2022, and in their next incarnations will undoubtedly pick up more culture, more talent, and more victories to add to the legacy.