What If: A Rom-Com Gem. Land Ho!: A Charming Indie Road Trip.
Zoe Kazan and Daniel Radcliffe in love and confusion, and two unconquerable codgers on an Icelandic adventure.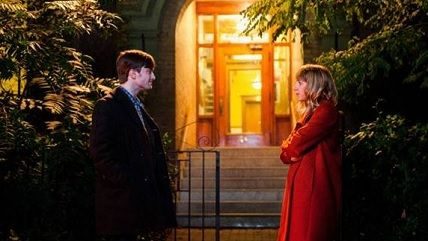 Romantic comedies can be so dismally predictable—the implausible characters, the dopey situations, the fratboy raunch—that many people flee them in advance of their actual arrival. Every now and then, though, a happy surprise bubbles up out of the rom-com swamp. What If is one of these. Like such earlier low-budget gems as (500) Days of Summer, Ruby Sparks, and last year's About Time, this Canadian indie delivers fresh writing, sparkly scenes, and laughs that arise directly out of its characters, who are believably conflicted and thus recognizably human. The story is brisk, unlabored fun, and the actors are aces even in the smaller roles. There's not a lot not to like.
The setting is Toronto (playing itself for a change, as opposed to other places it's often called upon to impersonate). Daniel Radcliffe is Wallace, a med-school dropout soured on love by a cheating girlfriend. At a party, he meets Chantry (Zoe Kazan, the writer and star of Ruby Sparks). She's a digital artist with a big animation company. They talk a bit and hit it off. But she quickly makes clear that she lives with a boyfriend of five years, a U.N. lawyer named Ben (Rafe Spall). She tells Wallace she'd like to just be friends. He immediately writes her off as a romantic possibility.
But he and Chantry keep cropping up in each other's lives. Wallace's friend Allan (Adam Driver) encourages him to make a play, get back in the game. Allan has found the love of his life in a peppery blonde named Nicole (Mackenzie Davis). Wallace is dubious. And when Chantry's hot sister Dalia (Megan Park) attempts to seduce him in her car, he brushes her off. ("I can't believe I got a Brazilian for this," she shrieks, wheeling away.)
The plot hinges on a relatable life crisis. Boyfriend Ben is transferred to Dublin on an extended assignment, and Chantry is offered a promotion that would relocate her to Taiwan. Chantry doesn't know what to do—she really does love Ben, who's not the usual sort of cloddish rom-com love rival, but a fairly decent guy. Complicating things, though, is her growing attraction to Wallace, who for his part is developing muffled hopes for a serious relationship.
Working from a script by Elan Mastai that's drawn from a play by T.J. Dawe and Michael Rinaldi, director Michael Dowse (Goon and It's All Gone Pete Tong) stages some wonderfully nutty scenes. There's a disastrous dinner that's pure screwball, and a flailing panic in a clothes-store changing room that's both hilarious and unexpectedly sweet. But then there's also a skinny-dipping scene on a beach that gleams with moonlit beauty. The actors deploy their zesty lines with brio, no doubt delighted to be given such lively material to work with. Kazan is of course a comic treasure, projecting smarts and vulnerability with equal facility, and hooking your heart with little more than a glance and a smile. Radcliffe, generally a reactive performer, has never seemed as at-home in his other non-Potter films as he is here. And Driver—an actor on a major roll—enlivens every one of his scenes just by walking into it. Davis and Park, as the girlfriend and the sister, nail their smaller parts memorably, and would seem to be headed for bigger things very soon.
There's naturally a message in all this, but it's quietly conveyed. Wallace, a child of divorce, blindsided by his recent dumping, just doesn't believe that love can ever last. Nicole, happily engaged to Allan, agrees that every relationship has a built-in worst-case scenario; real love, she tells him, requires a commitment to the best case. Which is pretty nicely put.
Land Ho!
This is a romantic comedy, too, of sorts; but it's the romance of long friendship and unlikely late-life wanderlust. In Land Ho!, indie writer-directors Aaron Katz and Martha Stephens have constructed a story that's almost entirely picaresque, a procession of amusing incidents. But the incidents carefully enlarge the two main characters, and soon we really care about them.
The lead performers contribute a tang of recognizable real life. Paul Eenhoorn, who plays an Australian expatriate named Colin, is in fact an Australian expatriate himself, a seasoned actor long resident in Seattle. On the other hand, Earl Lynn Nelson, who plays a retired Kentucky surgeon named Mitch, is an actual retired Kentucky surgeon (a family friend of co-director Stephens). He's not a professional actor, but he dominates the movie with his brash, blustery charm.
Colin and Mitch were once married to a pair of sisters, but no more. They're both in the neighborhood of 60 years old, and both at loose ends. Colin is a one-time symphony musician who lost most of his money in a failed business venture. Mitch is quite well-to-do, but bored by retirement. "I always had somethin' to do," he says. "I'm not dead yet." Hungry for adventure, he tells his old friend that he's bought them a pair of first-class tickets to Iceland—not everybody's idea of a bucket-list destination, maybe, but the trip's on Mitch.
Colin is soft-spoken and a little lonely. Mitch, on the other hand, is basically a big kid. He loves his cocktails ("like angels pissin' on your tongue," he says, savoring one) and he's a big marijuana enthusiast, too. Arriving in Reykjavik, he gets an email from his much younger cousin Ellen (Karrie Crouse), who's pursuing academic interests in Greenland with her friend Janet (Elizabeth McKee). Greenland being a short hop away, the two young women decide to visit.
When they arrive, Mitch is appalled by their frumpy clothes ("You look like you got into Janet Reno's closet") and insists on buying them fancier duds. They all go to a pricey restaurant, where Colin and Janet discuss Jewish mysticism. They visit a nightclub, where Mitch scores a glow stick. ("We're getting our groove back," he explains.) When the girls depart, he and Colin rent a Hummer and set off into the glorious wilds of Iceland.
One thing follows another, slowly illuminating each man's personality. The movie wanders along with them, but it doesn't drift—we're always learning a little bit more about these characters. In a quirky exchange with a honeymooning couple in a hotel bar, Mitch dials down his usual roar to dispense some gentle advice ("Don't let the sun rise or set on a problem"). At a campsite in the vast Icelandic outback, they meet a vacationing American woman named Nadine (Alice Olivia Clarke), an aspiring photographer spicing up the banker's life she leads back in the states. Lazing in a thermal pool, she and Colin bond over old movies. There's a flicker of flirtation. "I don't want much," Colin tells Mitch. "Someone to have a cup of tea with, sleep with. It can't be that hard."
It's a relief to find that Mitch and Colin aren't dirty old men. They don't hit on the young women they encounter—they're past that, and they act their age. But in a perfectly tuned scene at the end, the movie pays them sly tribute of a sort they never thought they'd receive again. Their trip has come to an end, but we'd like to think the adventure continues.