EMTs Complain After Cops Punch Mentally Ill Patient For Spitting at Them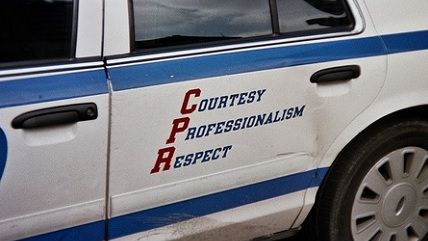 The latest police brutality reporting from the New York Daily News is about an incident that happened July 20, three days after Eric Garner died after being placed in a chokehold by cops from the New York Police Department (NYPD), and comes not via video but because of a complaint filed by emergency medical technicians from the Fire Department of New York (FDNY), who say they had to intervene when cops got too violent. The Daily News reports:
The emotionally disturbed patient was punched multiple times in the face by the cops on July 20, according to FDNY documents obtained by The News. The cops only stopped when the EMTs bodily intervened, the report said.

The violence broke out when the patient spit at the Emergency Service Unit officers and swore at them. The officers responded by hitting him in the face, hauling him off the stretcher to the ground and then tossing him back on the stretcher, the EMTs said in written statements submitted to the FDNY.
Bill De Blasio insists that "the law's the law," although that seemingly strict worldview doesn't apply to immigration laws—New York remains a sanctuary city under De Blasio. The police commissioner, Bill Bratton, suggests people "correct their behavior" when approached by police but the flurry of news about police brutality by the NYPD in the wake of Garner's death suggests the department, and the city government, ought to think about how to correct their behavior.