The New York Times: Unions Manipulate New York City's Public Pension Funds To Punish Their Enemies
Politicians divert "investments" to favored causes.
The New York Times reported last week that New York City's pension funds were contributing $40 million to a new "affordable housing" investment pool and expecting to earn a paltry 2.75 percent return. Gotham's comptroller, Scott  Stringer (D), who oversees the city's pension funds and whose primary experience in business was running a failed bar-restaurant in Manhattan in the early 1990s, called this a "sound investment."
Ultimately, taxpayers are on the hook for pension fund shortfalls—next year the city will contribute $8 billion or 11% of its budget—so "investments" of this sort are just a covert way of diverting city cash to particular causes.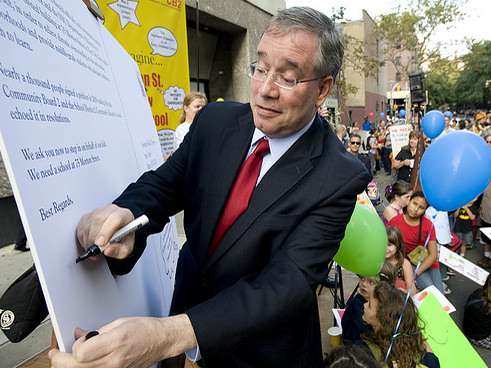 Today, the grey lady has a blockbuster story that looks at how lawmakers, consultants, and public-employee unions use the city's pension funds to favor particular groups and punish their enemies. The teachers' union, which helps oversee the city's pension funds, "keeps a list of investment firms it sees as unacceptable because of their connections to groups that, say, favor charter schools." In 2010, pension fund trustees extracted an apology and retraction out of the private equity firm Blackstone, which does business with the system, after a company official offended them by remarking during an investment call that public-sector retirement benefits are "excessive." Comptroller Stringer is planning to invest $1 billion in firms led by minorities and women, the Times reports, even though such initiatives "make it harder to achieve top investment returns."
With pension funds devouring an ever-growing share of New York City's budget, the story looks at efficiencies that could stave off the inevitable crisis, such as consolidating five separate funds and replacing outside managers with city staffers. Here's a better idea: Switch all New York City public employees to 403(b)s, so they can decide how to invest their own nest eggs how they see fit—and bear the consequences.
Reason on Pensions.