Cops Drag Brooklyn Grandmother Naked Out of Apartment—Complaints About NYPD Brutality Still Pouring In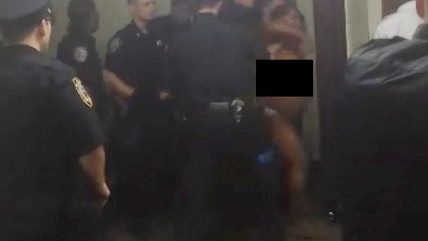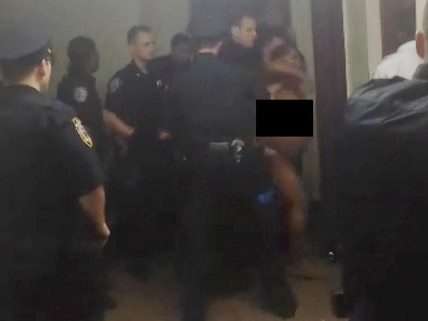 Since the death last month of Eric Garner at the hands of New York City police during an attempted arrest (ruled a homicide by chokehold by the medical examiner), there have been a series of complaints about police brutality directed at the New York Police Department (NYPD). Some occurred after Garner's death but some occurred before, only appearing after because of the renewed attention to the NYPD's record of police brutality in the wake of Garner's very publicized death.
Here is the latest of the latter kind, via the New York Daily News:
A Brooklyn grandmother who had just taken a shower was dragged from her apartment by about 12 cops who then stood by for more than two minutes while she was naked in the hallway, according to video that emerged Friday.

Denise Stewart was in her Brownsville apartment on July 13 when police — responding to a domestic disturbance call at the building — pounded on her door at 11:45 p.m. and demanded entry.

Stewart, 48, cracked the door wearing only a towel wrapped around her body and underpants — and was yanked into the hallway by cops over the screams of her family and neighbors.

The video shows a chaotic scene as a dozen or so male officers burst into Stewart's apartment, while several others struggle to subdue and cuff the nearly naked woman in the hallway outside.
Police did not get a specific apartment number for their call but chose Stewart's residence because it sounded loud on the inside. They claimed a 12-year old girl in the house had visible injuries on her, that becoming their reason to act, although it didn't protect her from being arrested either. The Daily News explains:
Cops removed the 12-year-old from the apartment and say she refused to get into the police car and kicked the door. A police spokesman said the child kicked out one of the police van's windows, with the broken glass cutting the chin of one of the cops. The cops were treated at local hospitals and released.

Denise Stewart was charged with assaulting a police officer, and — along with her oldest daughter, Diamond Stewart, 20, — resisting arrest, acting in a manner injurious to a child and criminal possession of a weapon.

Stewart's son Kirkland Stewart, 24, was charged with resisting arrest. The 12-year-old was charged with assaulting a police officer, criminal mischief and criminal possession of a weapon.
Children's Services found no sign of neglect of the 12-year-old, although it sounds like the police's behavior toward her may count as abusive.
Related: my column earlier today explains how incidents like these illustrate the dangerous effects "progressive" policies have on the very people they claim to be enacted on behalf of, the poor.