D.C. Cops Conducting FBI-Like Stings to Arrest People They Predetermine as 'Bad Guys'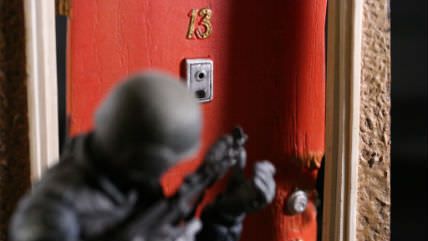 (Credit: ElDavo / photo on flickr)
The Washington Post this week reported on sting operations used by D.C. police officers to target "people they think are likely to commit armed robberies." The controversial tactics have resulted in more than a dozen federal court convictions thus far. 
Cmdr. Melvin Scott, who oversees the operations, defended the practice to the Post, saying, "we have to feel comfortable and confident that these are bad guys, the guys we want. We're not pressing these guys. They are boldly stating their job experience." 
One of the more recent operations led to the arrest of five men preparing to rob a fictional drug dealer created by undercover officers. While waiting for an undercover officer's "contact" to give them the go-ahead, a SWAT team stormed into the room and "dragged the men out by their feet."
A 2012 operation involved an undercover officer recruiting three men to rob a liquor store in Adams Morgan. Police bought two of the men, ages 18 and 19, alcohol and "tried unsuccessfully to get at least one of them into a strip club." The men were eventually arrested on conspiracy to to commit robbery, which has landed them in prison for three to four years.
Michelle Peterson, the attorney for one of the men, highlighted the questionable nature of these operations: 
"Everything that was done to plan this alleged event was done by the police officers," said Michelle Peterson, the attorney for one of the men. In arguing for a lighter sentence, Peterson said the police had "continued to ply this young, impressionable man with alcohol, scantily clad women and offers of obscene amounts of money if he did what they wanted him to do."
These stings, which many people see as unfair entrapment, extend far beyond our nation's capital. Last fall, an autistic teen in California was persuaded to buy pot for an undercover police officer. On one occasion, he exchanged 0.6 grams of marijuana for $20 with the officer. The teen was eventually charged with two felony counts of selling marijuana. (Watch ReasonTV's coverage of the story here.) 
If you find these stories absurd, you're not alone. Two federal judges have recently thrown out cases that involved sting operations put on by the U.S. Bureau of Alcohol, Tobacco, Firearms, and Explosives. In one of the cases, three suspects had already plead guilty to crimes that would have put them in prison for seven years or more. They had been convinced by undercover officers to assist in robbing an imaginary stash house for drugs with the promise of an enormous payday.
U.S. District Court Judge Manuel Real declared the operation unconstitutional, saying, "The government created the fictitious crime from whole cloth." Another judge, Stephen Reinhardt, expressed a similar sentiment in a dissenting opinion on a different case last April: "The government verges too close to tyranny when it sends its agents trolling through bars, tempts people to engage in criminal conduct, and locks them up for unconscionable periods of time when they fall for the scheme."