Pa. Cops Beat Up 17-Year-Old Girl Caught Out After Curfew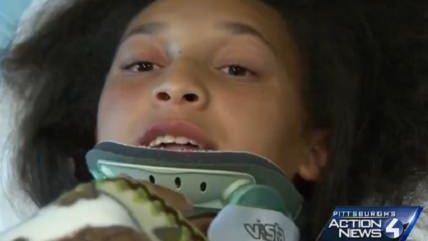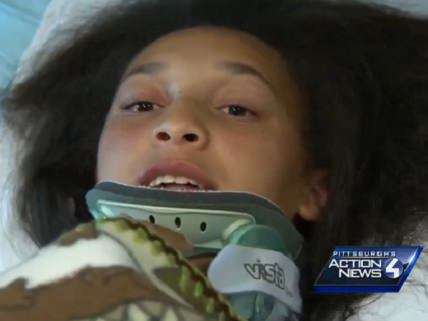 A 17-year-old girl in Clairton, Pennsylvania says she was brutally beaten by cops after getting caught outside after curfew. Merceedez Wright says she and her friends were walking home from an ice cream parlor just a few minutes after the 10p.m. curfew when they were approached by police. Wright admits to running away from cops when they exited the car. "I was scared because of how he got out of the car. He didn't just walk out, he jumped out of the car and started chasing me, so my first instinct was to run," she told local news station WTAE.
WTAE describes the attack based on Wright's friends who witnessed it as well as a portion caught on surveillance video:
"(The officer) ran full force at her and she ran from him," said Destiny Hester. "They pounced on her, then started kicking her and pulling her hair."

"I hear her screaming, I run over there and she's on the ground. They're over there beating her up, kicking her, pulling her hair," said witness Bryon Clifford.

Surveillance cameras across the street from the scuffle show Wright and an officer run into view, before the officer grabs her, spins her around, and throws her to the ground.

What happened next is not clear because the officers and Wright are behind a car, but two minutes later police appear to stand the teenager up before a new struggle begins.

The video shows one of her arms had come free, not in handcuffs, and she seems to pull away from the officers before they take her to the ground again.

One minute later, they again try to walk her to their car, but she appears to resist and pull in the opposite direction. One officer then uses a forceful move to push her down. She then is moved out of the view of the surveillance camera.

Wright is now recovering in the hospital with injuries to her trachea, esophagus and neck, plus several cuts and bruises.
Wright admits to resisting the police too, saying she tried to free her arms to protect herself after cops knocked her to the ground.
You can watch the surveillance footage included in the WTAE segment here.