Obama Hits Russia With Big Sanctions, Putin Says Relations Near 'Dead End'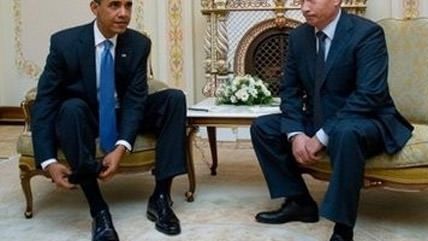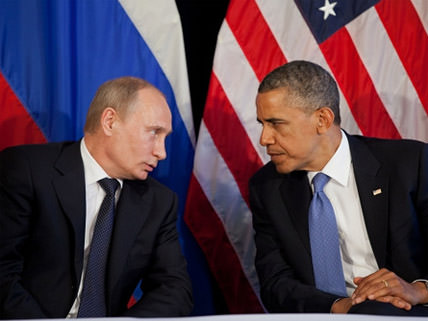 The Obama administration has hit Russia with what Reuters describes as the "toughest" and "most wide-ranging sanctions yet" over the nation's ongoing instigation of instability in Ukraine.
In light of renewed bloodshed, President Obama criticized that the Kremlin has so far not taken real steps to rein in militias that are trying to capture eastern Ukraine for Russia. Additionally, reports indicate that as of yesterday, Russia is again massing as many as 12,000 troops along their border.
The Treasury Department assured in a press release that its latest "actions do more than build upon previous steps to impose costs on separatists and the Russian government. By imposing sanctions on entities within the financial services and energy sectors, Treasury has increased the cost of economic isolation for key Russian firms that value their access to medium- and long-term U.S. sources of financing."
The department "imposed sanctions that prohibit U.S. persons from providing new financing to two major Russian financial institutions (Gazprombank OAO and VEB) and two Russian energy firms (OAO Novatek and Rosneft), limiting their access to  U.S. capital markets."
Also "cut off… from the U.S. financial system and the U.S. economy" are eight arms firms that are believed to be supplying the separatist forces with weapons. Four high-ranking officials, including a personal aide to Putin and the head of Russia's Federal Security Service (the modern incarnation of the KGB) are on the list as well.
European Union countries coordinated with the U.S. and created sanctions of their own.
Putin responded to the situation yesterday warning, "I am certain that this is harmful to the U.S. Administration and American people's long-term strategic national interests. … Sanctions have a boomerang effect and without any doubt they will push U.S.-Russian relations into a dead end, and cause very serious damage." Putin was at a two-day meeting with other "BRICS" countries – Brazil, India, China, and South Africa – working to "prevent the harassment of countries that do not agree with some foreign policy decisions made by the U.S. and their allies," as he put it.
In other Ukraine-related news, NATO just concluded some military exercises on the Black Sea. And, apparently a Malaysian passenger airline has crashed along the Russian border earlier today.
For more Reason coverage of Ukraine, click here.