Rapper Ice-T on the Failures of Gun Control: 'Guns Don't Kill, A Cold Heart Kills'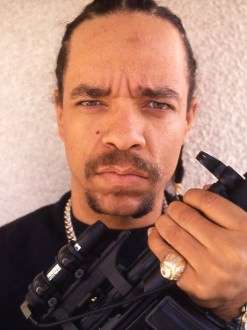 In the wake of the 2012 mass shooting at a movie theater in Aurora, Colorado, the pioneering gangster rapper, thrash metal frontman, and Law & Order: SVU television star Ice-T came out swinging against gun control and in defense of the Second Amendment. "I'll give up my gun when everybody else does," Ice-T told a British interviewer. "It's legal in the United States, it's part of our Constitution." What's more, "The right to bear arms is because that's the last form of defense against tyranny. Not to hunt. It's to protect yourself from the police."
Ice-T is back in music mode these days, with a new record out called Manslaughter that he recorded with his metal band Body Count. Because the first single off that record is titled "Talk Shit, Get Shot" (watch the NSFW video here), it was perhaps inevitable that the subject of gun control would once again come up when the artist spoke to the press. And as Ice-T made clear to the folks at TheBoomBox.com, his stance on the Second Amendment remains the same.
"It's not guns," he declared in response to a question about what causes school shootings and other widely publicized gun crimes. "We used to say when I grew up, 'Guns don't kill, a cold heart kills.'" The real question we should be asking ourselves, he said, is "what makes these kids hearts grow cold and decide this is an answer?"
For more on Ice-T's support for the Second Amendment, see here.