In Oslo, Eric Holder Pushes To Target and Criminalize Potential Extremists
Civil liberties? Oh yeah. We have that covered.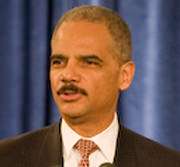 In a speech in Oslo, Norway, U.S. Attorney General Eric Holder said that he expects the number of Americans that travel to Syria to fight alongside Islamic extremists to grow. He also called for targeting westerners for surveillance and potential prosecution if they show signs of becoming radicalized.
American intelligence estimates that there are about 23,000 fighters in Syria. About 7,000 of these are foreign fighters. Of these, "dozens" come from America and about 50 come from Norway. One of them is ISIS-spokesperson Abu Safiyya, who recently taunted Obama to buy diapers in a propaganda video.
Holder spent the day reviewing the Norwegian action plan against radicalization with Norwegian Prime Minister Erna Solberg and Minister of Justice Anders Anundsen. He then called for other countries to enact a four-step multilateral plan to fight the "global crisis of influx of U.S.- and European-born violent extremists into Syria."
"If we wait for our nations' citizens to travel to Syria or Iraq to become radicalized, and to return home, it may be too late to adequately protect our national security," said Holder.
He asked that other countries join the U.S., France, and Norway to enact laws that criminalize preparatory acts to terrorism. The plan also includes use of undercover operations to identify people that are planning to travel to Syria to fight. Holder pointed out that the FBI already has conducted several successful operations that have identified people that were planning to leave America to fight in Syria.
The third step in the plan includes international collaboration and intelligence-sharing, including information about travelers. Interpol and its Fusion Task Force will coordinate this effort. He also called for mutual legal assistance and extradition of foreign fighters to combat violent extremism. Finally he called for countries to enact counter-radicalization programs, such as the Norwegian one.
The Norwegian plan includes 30 steps ranging from research on radicalization and public awareness campaigns to detailed plans for how schools officials, social security officials, and law enforcement officials should deal with reports about individuals that might be in the radicalization process.
Holder emphasized the administration's commitment to civil rights throughout the speech. This was probably to reassure people who would have rightful concerns about even closer international intelligence-sharing collaborations and law enforcement misconduct. Failed projects such as the illegal no-fly list come to mind.
"While we are committed to ensuring that we protect the safety of our fellow citizens, we are also committed to protecting their privacy," he said. "These undercover operations are conducted with extraordinary care and precision, ensuring that law enforcement officials are accountable for the steps they take—and that suspects are neither entrapped nor denied legal protections."
The Attorney General reiterated his proposal that the U.S. should enact legislation that would permit non-U.S. citizens to seek judicial redress for access, rectification, and disclosure of law enforcement information transferred to the U.S.
"This is an historic commitment by the United States to extend privacy protections beyond U.S. persons in this context," he said.
It would indeed be a historic commitment, if enacted and implemented.