A.M. Links: Feinstein, Chambliss Read About Bergdahl Torture in the Newspaper, Bulldozing Mountains in China a Concern, Miss Nevada Chosen as Miss USA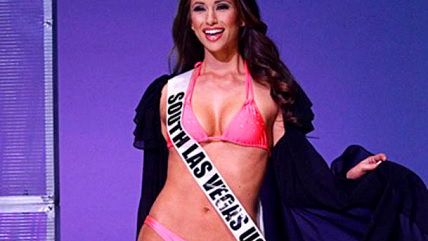 Pageant Update

Sgt. Bowe Bergdahl says he was kept in a cage and tortured by the Taliban while in captivity. On the Sunday talk show circuit, Senate Intelligence Committee Chair Dianne Feinstein (D-Calif.) and ranking member Saxby Chambliss (R-Ga.) said they didn't know about the alleged torture until they read about it in the newspapers and that President Obama did not provide them enough information about the release. Secretary of State John Kerry, meanwhile, defended the decision to trade with the Taliban for Bergdahl.

A man and a woman in Las Vegas shot two cops at a pizza café Sunday morning before shooting a third person at a Walmart. According to police, the woman then killed the man and herself.
Miss Nevada Nia Sanchez won yesterday's Miss US A pageant.
The Pakistan Taliban attacked and seized Jinnah International Airport in Karachi, killing 28. They say the attack was in retaliation for drone strikes in the country and promised it was just the beginning.
Environmentalists in China are starting to worry about the practice of bulldozing mountains and filling valleys to create space for building more cities.
For prostitutes in Venezuela, trading dollars is more lucrative than sex work.
Punchable faces are a product of evolution, according to researchers at the University of Utah, who suggest the human face evolved to minimize damage from violence.
Follow Reason and Reason 24/7 on Twitter, and like us on Facebook. You can also get the top stories mailed to you—sign up here.