Thanks, Taxpayers, for My Subsidized Ticket on an Airplane Gutted to Meet Stupid Regulations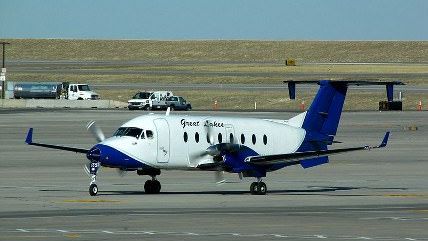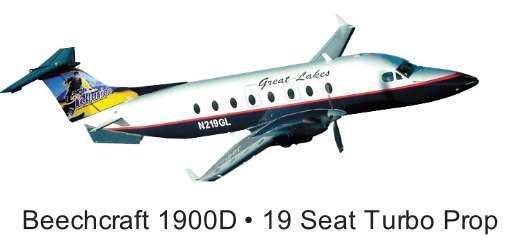 Usually, when I fly into Los Angeles, I take a shuttle bus to Phoenix and catch a plane out of Sky Harbor Airport. This time, though, I caught a commuter flight out of tiny Ernest A. Love Field in Prescott. I caught that plane with three other people. Thank you, taxpayers, for subsidizing our jaunt as part of the often (and justly) criticized Essential Air Service program. The problems with that boondoggle, which is withering away none too soon, are well demonstrated by the fact that half the seats had been ripped out of the plane to skate by FAA regulations, and we still rattled around in the damned thing.
Prescott's wonderfully bare-bones Ernest A. Love Field offers commercial service to LAX courtesy of Great Lakes Airlines. OK, it's really courtesy of American taxpayers, who underwrite the operation to the tune of $2,094,235 (PDF) per year.
I'd add the technical detail that the service is offered on 19-seat Beechcraft 1900D turboprop planes, except that when we boarded, the plane was gutted. Ten of the seats had been ripped out.
"It's because of me," the pilot told a fellow passenger who asked about the very interesting configuration, though he meant the company's pilots in general. "The FAA revised pilot qualifications last year for 19 seat planes. So now we only operate them with nine seats."
In fact, Great Lakes illustrates the change on its website (PDF) as…well…a feature. A wonderfully inexplicable feature.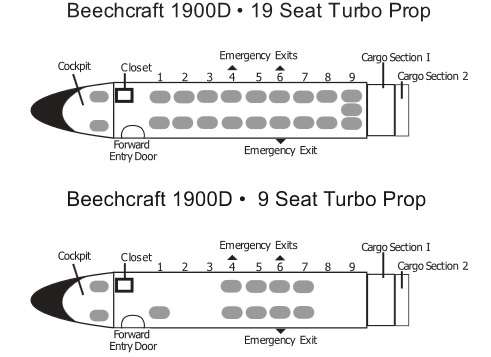 This change has been noticed elsewhere. Blogger Brett Snyder, also known as CrankyFlier, writes, "Just about every airline in the US operates under 14 CFR Part 121. That's part of the code of federal regulations. You'll commonly hear it referred to as just Part 121. Any airline operating under Part 121 is subject to those new pilot rules requiring each hired pilot to have 1,500 hours of flying (with a few exceptions)."
But there's a shortage of pilots who meet the increased requirements. So Snyder speculates (and my pilot confirmed) that small airlines are moving to satisfy the looser requirements that apply to Part 135 operations, with planes of fewer than 10 seats. They do this by flying the same planes they did before, but with more than half the seats ripped out.
Adds Snyder:
isn't that insane to run a 19-seat airplane with only 9 seats? In the normal world, yes. That would mean your costs are going to be much higher on a per-seat basis. But we're not in the normal world. We're in Essential Air Service world. And in Essential Air Service world, airlines are lucky to get 9 people in those 19 seats on a good day.
Lucky…like the four people, including myself, who were on my plane—with the costs largely covered by taxpayers.
For what it's worth, Snyder sees no safety issue in the scheme, since the same pilots who were safely flying 19-seat planes are now operating the nine-seaters. It's just an end-run around red tape.
In 2006, the New York Times noted that the Essential Air Service "program has come to seem mostly expensive and, to its critics, unessential." The same article noted that, in the United States, the plane on which I flew is entirely a creature of subsidized routes. "No one I'm aware of has figured out how to operate the 1900 outside the Essential Air Service program," said the head of Mesa Air, another regional operator.
Unlike many criticisms of boondoggles, this one has had some impact. No new communities can join the subsidized program as of 2010, and starting last year, existing operations under the program have to maintain an average of ten passengers per day (Kingman, Arizona, is being booted after achieving just 2.7 passengers per day, along with other low-traffic communities).
To judge by my flight, Prescott's taxpayer-subsidized air travel days are numbered. And well they should be. But thanks, taxpayers, for that very educational trip.