Chinese Amnesia on the 25th Anniversary of Tiananmen Square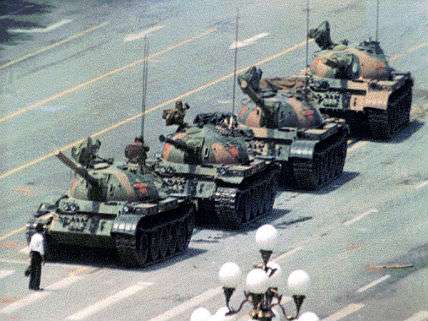 Today marks the 25th anniversary of the tragedy at Tiananmen Square—when hundreds, maybe thousands of pro-democracy protesters were slaughtered by tanks and soldiers as they rolled into the site where the student-led protest was taking place.
Even today, most Chinese people are completely unaware of the events that transpired on June 4, 1989, due to rigorously controlled education and strict surveillance of the Internet by the Chinese government.
Two summers ago, I travelled to China to teach middle school children English. While I was unfamiliar with much of their culture, I was most shocked to learn that not a single one of my students had any idea what happened at Tiananmen Square.
Louisa Lim, an NPR correspondent and author of The People's Republic of Amnesia, told USA Today that just 15 out of 100 students at four top universities in Beijing could identify the events surrounding the famous tank photo when it was shown to them.
Reason named the unidentified tank man as one of our 35 Heroes of Freedom.
The Tiananmen Square martyr. By putting his life on the line in front of his government's tanks, he provided not only one of the most memorable images of the last 35 years but one of the most inspiring too. The free China of the future owes him a statue or two.
The Chinese government has implemented measures leading up to the anniversary to ensure that they keep this secret out of the minds of their people. Tech news site CNET reported that access to Google has been shut off for several days leading up the anniversary and that other domestic search engines in China have been censored more than usual.
The Chinese government's attempts at censorship do not end there though. The Guardian has reported that about 50 people have either been detained or disappeared as the anniversary neared. Others have been put in prison with long sentences for organizing a private memorial gathering.