U.S. Sends Warship to Black Sea, Says Russia Hasn't Pulled Troops Yet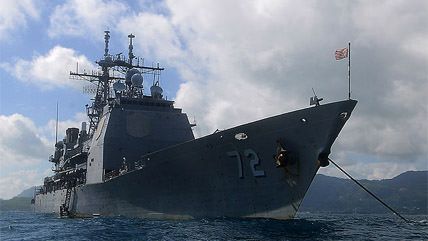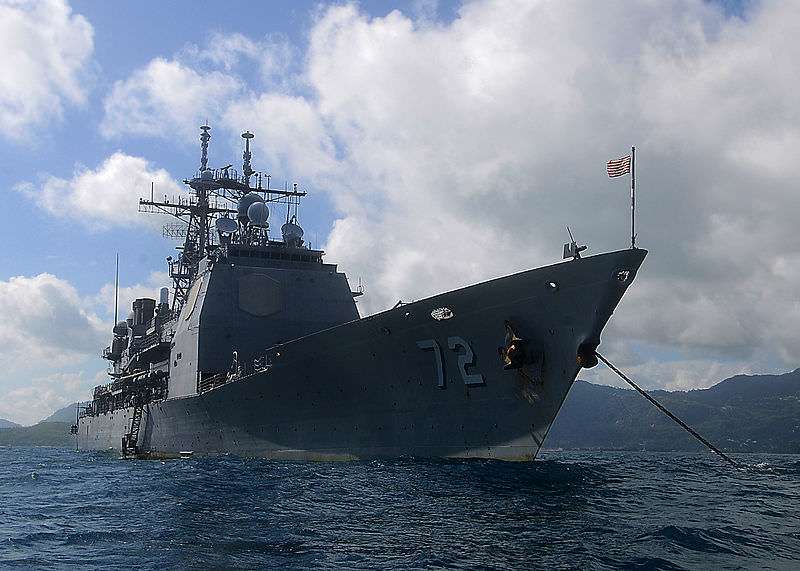 The United States and Russia are flexing muscles over Ukraine. The USS Vella Gulf, a guided missile cruiser, is heading for the Black Sea. At the same time, there are conflicting reports about whether Russia has withdrawn any of its 40,000 troops stationed along the Ukrainian border.
According to Agence France-Press, the warship will take the place of the USS Taylor, which departed earlier this month, because "the 1936 Montreux Convention that governs the Black Sea bars outside countries from keeping warships in the strategic waters more than 21 days." Prior to the Taylor, the USS Truxtun patrolled the sea.
Just as the previous vessels were intended to provide "strategic reassurance" to the region as Russia invaded and annexed Crimea from Ukraine, the Vella Gulf is likely intended to send a warning to Russia not to interfere with Ukraine's presidential election, which will take place this Sunday.
Russia announced today that it's moving troops away from Ukraine. Reuters reports:
The Kremlin said on Monday that President Vladimir Putin had told his defense chief to order troops to pull back from the frontier with Ukraine, where eastern regions have fallen largely under the control of pro-Russian rebels.

After spending a day dismantling field camps, packing and preparing military vehicles, forces in the Rostov, Belgorod and Bryansk provinces "have begun to move toward train stations and airfields", the Defense Ministry said in a statement.

It said troops were returning to their permanent bases, but did not specify how many troops were leaving the border provinces and made no mention of two other provinces that border eastern Ukraine.
Yet, this isn't even the first time this month Russia has made such a promise. On May 7 President Vladimir Putin made the curious claim that he had given the order and troops were already gone, but that was almost immediately debunked by satellite images that showed them still in position. So, the West is skeptical.
"What we know thus far is that there has been certain troop movements, but I have received no confirmation, either through Pentagon sources or NATO sources, that there has been a wholesale repositioning of those troops off the border," U.S. Army Secretary John McHugh said today.
NATO Secretary General Anders Rasmussen corroborated, "I wake up every morning hoping to see a real and meaningful withdrawal of Russian troops, but I have to tell you that so far we have not seen any visible evidence of a withdrawal of Russian troops."
Meanwhile, Ukraine earns creativity points for producing little chocolates that look like Putin in a prison uniform.