Cops Harass Wheelchair-Bound Vet, Take His Cellphone Out of Spite, Arrest Him on Probation Violation After Story Goes Viral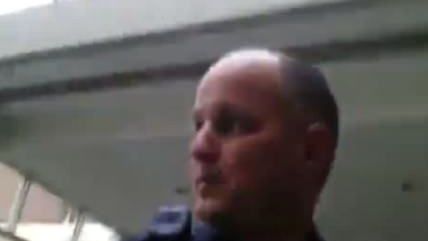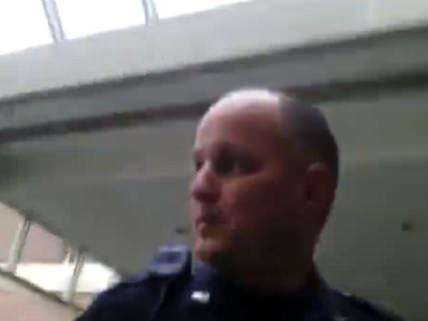 Healthcare through the Department of Veterans Affairs (VA) is, for now, the closest the U.S. has to government healthcare. Like with all things government, the VA has its own police force. Like other police forces, they seem to have a problem with being recorded, and disrespected.
Wheelchair-bound veteran Todd MacRae says VA police snatched his phone from him while he was trying to record them. He says it all started when he ordered VA cops to leave the room while he was visiting his doctor. They were called when McRae got upset his doctor didn't accept his answer to a question about his drinking habits. He had calmed down by the time they got there, and the doctor said she could finish her appointment with McRae. Witness what can happen when government and healthcare collides in the worst way. via Carlos Miller of Photography is Not a Crime reports:
They accused him of "disturbing the peace," and ordered him, along with his dog, to follow them downstairs to their office, where they could cite them.

"I told them, 'write me a ticket or shut the fuck up,'" he said, acknowledging that he doesn't hesitate to speak his mind to the cops…

A week later, his 23-year-old daughter dropped him off for his weekly blood tests, but because she had to attend class at the local college, she left him two hours earlier than his appointment.

So he entered the Starbucks on hospital property with his dog, which is completely allowed, but then one of the cops from the previous week entered, recognized him, and started hassling him about his "vicious dog" not being muzzled.

The cop ordered him off the hospital under threat of trespass arrest, which caused MacRae to miss his weekly appointment for his blood tests that enables him to survive despite having more than 20 pieces of metal in his neck.

"I had to call my daughter to come pick me up and she had to leave school," the former construction worker said.

On Tuesday, he was at the hospital for another appointment, minding his own business in front of the hospital, when a VA cop walks up and begins hassling him about his dog.

Unlike the two prior incidents, MacRae began recording with his phone, only for the cop to lie and say he was not allowed, then eventually snatching it from him.
Among the problems with this story: state law doesn't require service dogs to wear muzzles. Neither is recording police against the law in Tennessee. Nevertheless, cops pointed to a federal statute prohibiting unauthorized photography to issue him a citation. So this story has government healthcare, police abuse, and the war on terror.
Even worse, Carlos Miller reports McRae's family says he was arrested on a probation violation stemming from a decade-old incident just hours after story went live on Photography is Not a Crime. Read more and watch the video McRae took here.