Obama Piles New Sanctions on Russia for 'Provocation' in Ukraine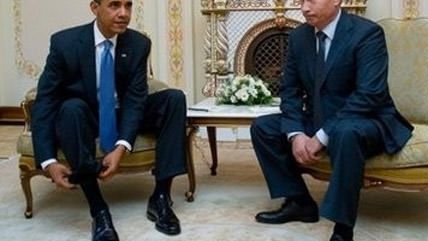 The crisis in Ukraine heated up with another hostage situation this weekend, the shooting of an elected official this morning, ongoing riots, and President Barack Obama's announcement of a new set of sanctions against Russian government officials and cronies for not fulfilling its promise to "de-escalate" the situation.
"So long as Russia continues down a path of provocation rather than trying to resolve this issue peacefully and de-escalate it, there are going to be consequences and those consequences will continue to grow," Obama said yesterday. He also wagged his finger at the Putin administration for idling while "thugs," pro-Russian separatists, took hostage a team of eight Organization for Security and Co-operation in Europe (OSCE) observers.
The Hill reports:
The penalties will hit seven Russian government officials, including two members of Putin's "inner circle," according to White House press secretary Jay Carney. The Treasury Department will also freeze the assets of 17 companies linked to Putin….

The Department of Commerce will also impose new restrictions on 13 of the companies in a bid to prevent the export of U.S. manufacturing to them.
The European Union and G7 nations are imposing similar sanctions.
The Moscow Times notes that "so far, the sanctions imposed on Russia are not game-changers for foreign companies" doing business in the country, though Russia's economy is pretty awful anyway: "Downgrading Russia's credit rating on Friday to BBB-, one notch above junk status, Standard and Poor's said $51 billion of capital had fled the country in the first quarter, almost as much as the $57 billion average annual outflow over the last five years."
The U.S. and Russia are also flexing military muscle over the situation. Russia is in the midst of previously unplanned naval exercises in the Caspian Sea while contingents of American paratroopers exercise in NATO allies Poland, Lithuania, Latvia, and Estonia.
In spite of all this posturing, Ukraine's turmoil continues. The mayor of Kharkiv, a separatist-occupied city near the Russian border, is in critical condition after being shot by an unknown gunman today. Pro-Russian and pro-Ukrainian protesters are taking place in another contested city, Donetsk, today as well. There are few details yet, but Radio Free Europe reports at least 15 injured. Watch some of what happened below:
Read more Reason coverage of Ukraine here.