Russia Threatens Invasion Unless Ukraine Stops Stopping Separatists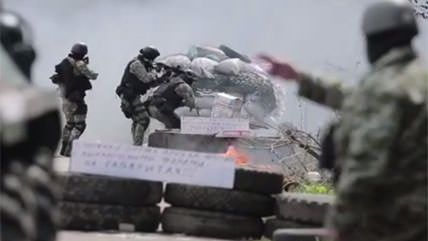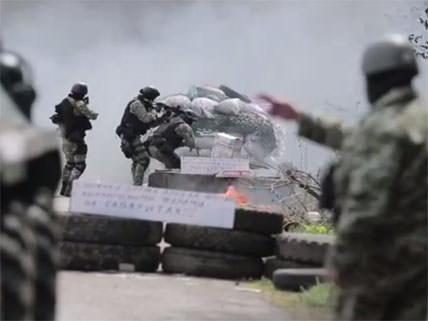 Russia launched new military exercises along the Ukrainian border as part of yesterday's threat that Kremlin forces would invade Ukraine if the nation continues its "anti-terrorist operation" against pro-Russian separatists.
Showing that Russia means business, Defense Minister Sergei Shoigu today mobilized artillery, tanks, and fighter jets. Without a hint of irony, he justified the move by condemning the Ukrainian government's action against the insurgents who are suspected of being Russian-backed. "The forces are clearly unequal. If this military machine is not stopped today, it will lead to a large number of dead and wounded."
Russia, which has for weeks stationed as many as 40,000 troops along the border, seems to want to eat its cake and have it too in this crisis. It denies any connection to or responsibility for the action of pro-Russian separatists in Ukraine while claiming to be their rightful guardian when the Ukrainian government retaliates against them. Russian Foreign Minister Sergei Lavrov yesterday accused the U.S. of meddling in Ukraine and warned that Russia could invade its neighbor "in the case of direct infringement of the interests of Russia and Russian citizens."
Ukraine considers the separatists—who have taken hostages, are accused of killing several people and wiring buildings with explosives, and have threatened to "take all necessary measures" to stop the nation's upcoming presidential election—to be dangerous militants. As part of an international agreement made last week, though, the government called a ceasefire and offered them clemency. The separatists rejected the deal and reportedly "tortured to death" a politician in an occupied region, and the government resumed its operations.
Several battles occurred today. Seven people were killed when the military attempted to "recapture [Sloviansk] from separatists, including all government buildings they had taken over," according to the Kyiv Post. One separatist leader was arrested in Kharkiv, reports Ukrainska Pravda.
The threat of a Russian invasion prompted Ukraine to temporarily halt further operations, but interim president Oleksandr Turchynov said the fight isn't over. "We will not step back from the terrorist threat and will continue taking measures to protect our people's lives. We demand that the Russian Federation stop interfering in Ukraine's internal affairs, stop permanent intimidations and blackmailing, and redeploy their troops from the eastern border of our country."
Ukrainian diplomats in Washington today suggested that they'd like to buy "lethal aid," a request that has so far been rejected.
In other news, Russian President Vladimir Putin today declared that the Internet is a "CIA project" and that Russia must "fight for its interests" on the web. How soon until we should expect the masked men claiming to be "local self-defense forces" of the Internet?
Click here for more Reason coverage on the Ukrainian crisis.