A.M. Links: U.S. Troops in Poland, IRS Awards Tax Delinquent Employees, Buffalo Bills Cheerleaders Suing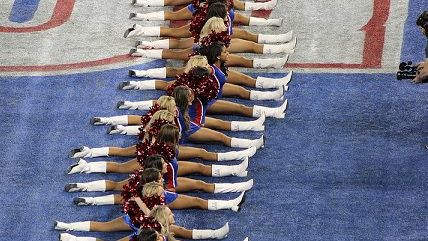 Anz-i/Foter

U.S. troops arrived in Poland for multi-country military exercises scheduled after the Russian annexation of Crimea. An American journalist with Vice, meanwhile, is being held hostage by pro-Russian forces in eastern Ukraine.

President Obama's attempt at an "Asia pivot" received a response from China in the way of a massive military buildup.
A million dollars in bonuses have been awarded by the Internal Revenue Service to employees who owe back taxes.
A study by Verizon found that 34 percent of all data breaches in the public sector are due to "miscellaneous error."
Cheerleaders for the Buffalo Bills are suing the team over labor practices. They allege micro-management included directions on how they should wash their "intimate areas" and a "jiggle test" to evaluate their "physique."
Data collected by the Comprehensive Test Ban Treaty Organization reveals 26 major explosions on Earth since 2000, all caused by asteroids and not clandestine atomic bomb tests.
Follow Reason and Reason 24/7 on Twitter, and like us on Facebook. You can also get the top stories mailed to you—sign up here.