Sen. Chuck Schumer Blasts FDA's 'Ridiculous' New Proposal for Breweries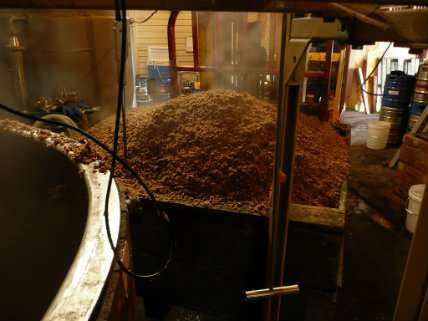 Sen. Charles Schumer (D–N.Y.) is sticking up for breweries and pushing back against the Food and Drug Administration's nonsensical "spent grain" proposal. In a letter to FDA Commissioner Margaret Hamburg, Schumer said the proposed rule "would drive up costs for both farmers and brewers with no clear health or safety benefit."
Under the rule, breweries would be barred from sharing spent grains—the leftover muck from the beer-making process—unless they dry and package the grains first. Currently, many brewers donate the spent grains directly to local farmers, who feed it to livestock. It's a symbiotic relationship that saves both parties time and cuts down on environmental waste.
Nick Matt, CEO of the brewery behind Saranac beers, says his company has been providing spent grain to farmers since 1888. It seems that for the past century and change, pigs and cows have been perfectly fine without the FDA imposing safety standards on the spent grains they eat.
At a press conference at New York's Saranac Brewery yesterday, Schumer said the "ridiculous" rule—part of the FDA's implementation of the new Food Safety Modernization Act—is overly restrictive, is unnecessary, and would force brewers to trash the grains, as this would be cheaper than meeting the new requirements. The brewing industry estimates that compliance could cost brewers over $50 million a year.
The rule "simply cannot go forward," said Schumer. "I'm urging the FDA to do an about-face on this misguided rule, which would stymie a mutually-beneficial relationship between two of Upstate New York's most important industries."
Last week, 13 U.S. representatives also sent a letter to FDA Commissioner Hamburg about the spent grain proposal. "While we appreciate that the FDA is working towards improved food safety," wrote the lawmakers, led by Reps. John Garamendi (D-Calif.) and Doug LaMalfa (R-Calif.), "the unintended consequences of these regulations will increase costs, decrease efficiency and hamper the growth of breweries."