In POM Wonderful vs. Coca-Cola, Supreme Court Considers Food Labeling, False Advertising, and FDA Authority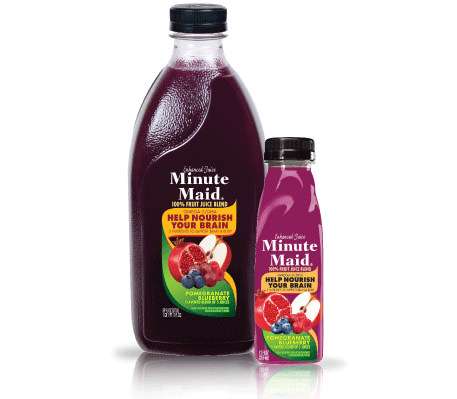 The Supreme Court is hearing oral arguments today in a case reporters can't resist describing as "juicy." No, there's nothing terribly salacious or scandalous about this case. But it revolves around claims that Coca-Cola makes on Minute Maid brand pomegranate blueberry juice.
Coca-Cola describes the beverage in question as a "Pomegranate Blueberry Blend of 5 Juices," which is not exactly untrue. The drink contains about 0.5 percent pomegranate and blueberry juices, along with apple, grape, and raspberry juice.
But competitor Pom Wonderful took issue with Coca-Cola's statements. In POM Wonderful LLC v. The Coca Cola Company, the juice maker charges the beverage behemoth with false advertising, a violation of the federal Lanham Act.
The U.S. Court of Appeals for the Ninth Circuit ruled against Pom Wonderful, holding that a private party can't bring a claim challenging a product label, as these are regulated by the Food and Drug Administration (FDA). Under the Food, Drug, and Cosmetic Act, the FDA was granted regulatory authority over food and drink naming and labeling.
But it's unclear whether the agency has exclusive authority in this realm. The Supreme Court is now tasked with deciding whether that's the case or whether private parties can sue for false advertising on food and drink labels. From the Wall Street Journal:
Coca-Cola's position is that Congress intentionally gave exclusive regulatory authority to the FDA so that manufacturers could rely upon a single, nationally uniform, legal standard about food names and labels. Pom's position is that the FDA rules provide a legal floor for food and drink manufacturers, but other legal rules, such as the federal false advertising laws, can require manufacturers to do more than the FDA's minimum.

Thus, Pom argues that Coca-Cola is deceiving consumers under the cover of inadequate FDA regulations, and Pom will protect consumers if it can sue under federal false advertising law; while Coca-Cola argues that lawsuits like Pom's threatens to create anarchy for food and drink manufacturers by creating multitudinous and possibly inconsistent labeling obligations.
The lawsuit only applies to names and claims on product labels, not other forms of advertising. Competitors and consumers can and do bring lawsuits for false advertising in food and drink ads.