Ukraine: Pro-Russian Militants Reject Diplomatic Agreement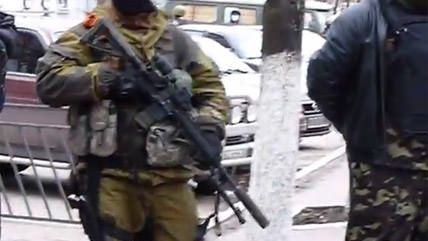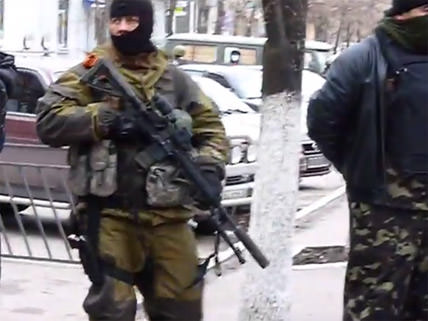 In Geneva yesterday the U.S., Ukraine, Russia, and the European Union reached "a compromise of sorts" on how to deal with the tempestuous and bloody situation stirred by pro-Russian separatists in Ukraine. The problem is, those separatists don't agree to a word it.
NPR highlights the diplomats' decisions:
All "illegal armed groups" in Ukraine must immediately lay down their weapons.
All "illegally seized buildings" in eastern Ukraine must immediately be returned to that nation's authorities.
All protesters in eastern Ukraine, who have been pushing to join the Russian Federation, will be granted amnesty by the Ukrainian government unless they are judged to be guilty of capital offenses.
The group, which includes Secretary of State John Kerry and Russian Foreign Minister Sergey Lavrov, issued a joint statement assuring that these are "concrete steps to de-escalate tensions and restore security."
President Obama was skeptical. "My hope is that we actually do see follow-through over the next several days," he said, "but I don't think, given past performance, that we can count on that." So far, his assessment seems correct.
Denis Pushilin, a self-proclaimed leader of the self-declared "People's Republic of Donetsk," says his men won't budge. "Lavrov did not sign anything for us, he signed on behalf of the Russian Federation," he defied. Pushilin continues to maintain that only a referendum for secession will end the armed occupation of government buildings.
Another self-proclaimed separatist leader, Oleksandr Khriakov, "demanded that Euromaidan protesters pack up their camp in Kyiv first," according to Radio Free Europe.
This may not be the only problem for the Ukrainian government, though. Adrey Illarionov of the Cato Institue and formerly chief economic adviser to Russian President Vladimir Putin says that Ukraine was "sold" and "betrayed" by the Geneva agreement. He lists some serious problems he sees with the agreement:
Ukraine de facto agreed to "external control"—matters relating to the exclusive jurisdiction of the national government in domestic policy, will now be addressed with respect to the external forces of Ukraine. These external forces are the West and Russia….
In the document there is no requirement to withdraw from the territory of Ukraine, Russian troops, including GRU, FSB, MTR and others. That is, their presence in Ukraine is now de facto legalized.
The document says nothing about Russian aggression. There is not a word about the war being waged by the Putin regime against Ukraine. So now even the fact of Russian aggression is legalized.
Read more Reason coverage of Ukraine here.