Ukraine: Alleged Terrorist Threat Sparks New Tensions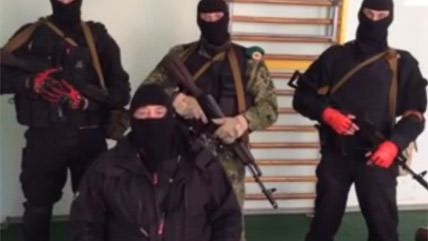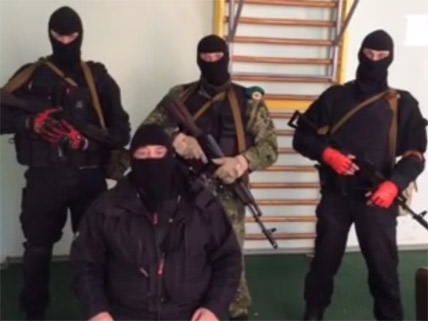 Uprisings involving potential terrorists in Ukraine's eastern regions are creating new tensions on an international level. The U.S. and NATO are both warning Russia not to intervene in the unstable situation.
On Sunday, small groups of pro-Russian separatists seized government buildings and an armory in three cities and demanded independence referendums. Government troops bloodlessly retook the buildings, but the separatists acted again today.
"The Security Service of Ukraine says that pro-Russian separatists have taken 60 people hostage in the security agency's headquarters in Luhansk, and are threatening to use arms and explosives," the Kyiv Post reports. The agency has deemed them "terrorists," though the "protesters occupying the building denied the charge that they had wired the building with explosives and were holding people against their will."
Russia, which has for weeks amassed an estimated 40,000 troops near the Ukrainian border, demands that Ukraine immediately cease "any military preparations" as a response to the unrest, lest it spark a civil war. Russia also accused the U.S. of providing private military services to the Ukrainian government to suppress ethnic Russians.
The U.S.'s stance is that the separatists are actually Russian agents. Secretary of State John Kerry suggested today that Russia is the one attempting to foment civil war as a "contrived pretext for military intervention." Kerry warned that the U.S. may impose even more sanctions if that happens.
NATO Secretary General Anders Fogh Rasmussen spoke about the crisis today saying, "If Russia were to intervene further in Ukraine, it would be an historic mistake. It would have grave consequences for our relationship with Russia and it would further isolate Russia internationally," and that instead it should "engage in a genuine dialogue with the Ukrainian authorities and respect its international commitments."
The president of the Czech Republic, a NATO member, yesterday suggested that NATO forces should be used to defend Ukraine if Russia were to attempt annexing more regions of the country.