20 Years Ago in Reason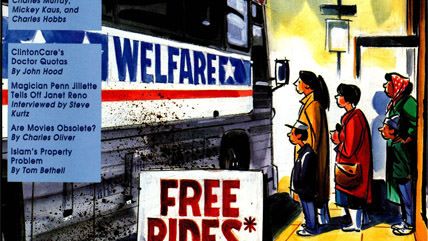 "It is too soon to proclaim the death of film. But a convergence of technological changes and economic forces is presenting the greatest threat to cinema-going since the introduction of television in the late 1940s."
-Charles Oliver, "The Last Picture Shows"
"The [National Security Agency]'s character is plainly less than upstanding (the same could be said for most federal law-enforcement agencies). Congressional investigations in the 1970s brought to light a host of abuses, including the illegal interception of millions of cables sent by American citizens. Such overreaching seems to be a defining characteristic of the agency."
-Nick Gillespie, "Blunder Road"
"The debate over health care reveals deep moral divisions-differences about such fundamental political values as liberty and equality, diversity and control. But neither the White House nor most of its opponents will acknowledge or debate those differences."
-Virginia Postrel, "Rhetorical Malpractice"
-April 1994