Angry Parents Crush Race-Quota Revival
Prop. 209 would have hurt Asian-Americans in the name of diversity.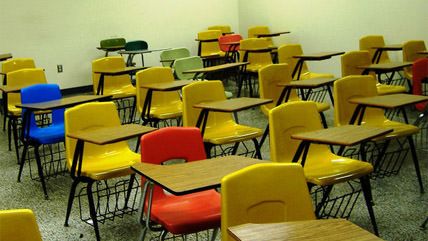 SACRAMENTO — When my family moved from northwest Ohio to pricey Southern California, we could afford an entry level house but couldn't also spring for private-school tuition for the kids. So we scoured the test-score databases, looking for those neighborhoods where home values were reasonable and public schools were tops.
Given the focus on schools, it will surprise no one that we settled in a city with a majority Asian-American population. On the night the school held a meeting about Advanced Placement, there wasn't parking spot within a mile. Tales of so-called Tiger moms–Asian mothers who impose strict academic standards on their kids–are not fictional. There's a reason Asian-American and Pacific Islander students make up 14 percent of the state's high-school graduates but nearly half of freshmen at Berkeley.
Unfortunately, students from other ethnic groups haven't always had as much success getting into the state's top universities. So Democratic senators in January passed SCA 5, which would have restored racial and ethnic quotas that were stripped from California's public-university systems in 1996 following statewide passage of anti-quota Proposition 209. Their stated goal wasn't to reduce Asian attendance, but given that top-university admissions are a zero-sum game, that would have been an end result.
The new measure, a proposed constitutional amendment that needed a two-thirds legislative vote before putting it on a statewide ballot, was shelved after three Asian-American Democratic senators who had previously voted for the bill removed their support after many of their constituents got wind of the advancing proposal.
"As lifelong advocates for the Asian-American and other communities, we would never support a policy that we believed would negatively impact our children," said Sens. Ted Lieu, Carol Liu and Leland Yee, in a letter last week to Assembly Speaker John Perez. They called for a hold on the bill until its sponsor, Sen. Ed Hernandez (D-West Covina) has an opportunity to "attempt to build a consensus." Don't expect a consensus soon.
"There was a real grassroots revolt against this effort and it really caught Asian-American Democratic legislators by surprise," said Lance Izumi, an education expert at the conservative Pacific Research Institute. One opponent called SCA 5 "the most racist bill" in the state's history in the Cal Alumni magazine. That's a stretch considering, say, the Chinese Exclusion Act and Japanese internment camps, but the article captured the anger that split the Democratic caucus.
"It was interesting to see the Chinese-American community enter the fight when they had not during the 209 fight," said Ward Connerly, who was chairman of the 1996 campaign. But he told me Asian-Americans now understand that their kids would lose out if admissions officials gain the right to discriminate.
Nevertheless, Hernandez has called Prop. 209 a "complete failure" because it led to a less diverse student body. San Diego Democratic Sen. Ben Hueso said in published reports that "Prop. 209 creates a barrier for people of color to access higher education."
Practically speaking, Prop. 209 has meant that admissions to California's elite public universities go to the individuals most qualified to attend them. It's not a barrier for people of color–but a barrier for all students who don't have the best grades and test scores. California has other universities and colleges that accept people whose academic records aren't quite as good.
"These kids can perform if they are given the right quality of education in the K-12 years," Izumi said. Quotas are an attempt to bail out the current, troubled system, he added. A new study by Stanford University's Center for Research on Education Outcomes, for instance, found impressive academic gains for Latino students in impoverished Los Angeles neighborhoods who attended charter schools.
Our kids rose to the occasion when placed in a hard-charging academic environment. Their ethnicity wasn't an issue. Likewise, this quota debate misses a more important focus, which should be on helping Latino, African American and other students get the quality education they need to qualify for the best schools on their own.