Helmet Video of Albuquerque Cops Shooting Homeless Man Sparks Outrage Across New Mexico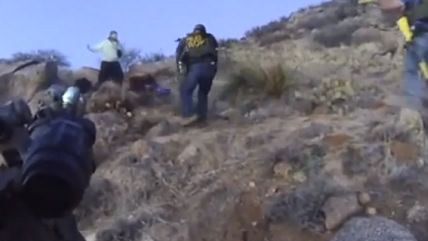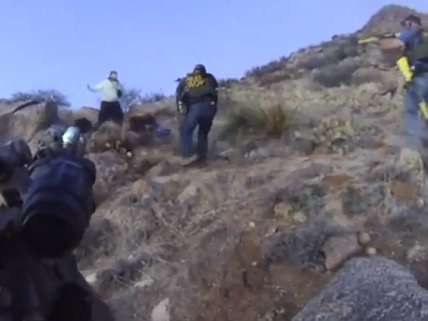 Albuquerque, New Mexico, police described James Boyd, the homeless camper who was fatally shot during a stand-off over illegally camping in a public space while he appeared to be turning away, as a mentally disturbed man with a violent 20-year criminal history. The police alleged he had previously threatened officers, that he was reaching for a knife, that a K-9 officer was in danger and that Boyd was mentally disturbed the day the police shot him. A few years ago, that might've been the end of the story. But the shooting was caught by police helmet cams (video at bottom), and has sparked outrage across New Mexico. The Albuquerque police only began to wear cameras in 2012, the same year those officers came under Department of Justice review and in which they fatally shot 17 people. Via the Associated Press:
A protest Tuesday evening in downtown Albuquerque drew a crowd from around the city and Santa Fe. Some chanted "We want justice," while others held signs that read "APD is guilty" as they marched for a few blocks to police headquarters. The demonstrators filled the streets, blocking traffic as they went.

"I think the helmet cam has a lot to do with it," said Hans Erickson, vice chair of the [police oversight] task force. "It's so important for us to have as much information on these kinds of shootings as we can."

Erickson said the footage allows the public to see what happened without having to rely solely on accounts of police and witnesses.
The task force has demanded an independent investigation into the shooting, while the mayor of Albuquerque called what appeared on tape "horrific." Democrats in the State Senate also, the A.P. reports, took note. Those interested enough blame a lack of training. State Senate Majority Leader Michael Sanchez (D-29) called it "shameful" that officers weren't being prepared to "handle all situations that come their way," apparently shifting the blame from officers who might act inappropriately to the agencies that pay them, often handsomely. "Unfortunately," he added, "it is at the expense of precious lives."
Ronald Bailey made the case for mandatory police cameras last year. A PoliceOne list of tips for cops to beat civil and criminal complaints also stresses the importance of video evidence. Even videos by bystanders not interfering with a cop's duties "should actually be welcomed." The police instructor who wrote those tips also adds: "You should act as if you were being recorded all the time, and should a lawsuit or complaint come up, have access to that video." Maybe he should have also mentioned that trying to gain access to video by seizing cellphones could itself lead to a lawsuit.
Watch the video of the Boyd shooting below: