Hawaii Cops Give Up on Sex With Hookers, Settle for Handjobs and Blowjobs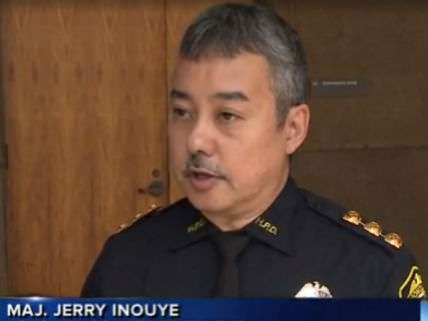 Hawaii cops have reached an agreement with state legislators that will limit the exemption that allows them to have sex with prostitutes. Police originally insisted on an open-ended license to fornicate, but now they are willing to settle for petting, handjobs, blowjobs, and other activities that fall short of penetration.
Hawaii's current prostitution law includes a blanket exemption for law enforcement officers "acting in the course and scope of duties." That covers both agreeing to pay for sex and actually having sex. As you may recall, some members of the state House of Representatives, who apparently were surprised to discover this exemption existed, wanted to remove "sexual penetration or sadomasochistic abuse" from the list of things cops are allowed to do with prostitutes. Police objected, saying that change would put a damper on their work, and the bill that the House ultimately passed left the exemption alone. But news of the nixed amendment generated enough outrage that police are now willing to compromise.
Yesterday state Sen. Clayton Hee, who chairs the Senate Judiciary and Labor Committee, told KHON, the Fox station in Honolulu, that the Honolulu Police Department (HPD) "agrees that the sexual penetration language in the law that they are exempt from should no longer be an exemption for police officers." HPD Maj. Jerry Inouye told the station that the department "has never allowed police officers to have sex with prostitutes and that HPD only wanted to keep 'the part that allows an officer to make a verbal agreement for sex for money because that's the crux for most prostitution investigations.'" But that is not what Jason Kawabata, captain of the HPD's Narcotics/Vice Division, told the House Judiciary Committee last month (emphasis added):
As written, this bill would nullify the exemption if the officer agrees to pay a fee for sexual penetration or sadomasochistic abuse. This would limit the type of violations law enforcement officers are able to enforce. Even if the intent of the amendment is merely to limit actual conduct by the officer, we must oppose it. Codifying the limitations on an officer's conduct would greatly assist pimps and prostitutes in their efforts to avoid prosecution.
Yes, Kawabata wanted to make sure it was legal for officers to promise money for sex, including penetration. But he also wanted to preserve the exemption for actually having sex with hookers, even though Inouye insists that has never been allowed, because "codifying the limitations on an officer's conduct would greatly assist pimps and prostitutes in their efforts to avoid prosecution." As I said last week, that argument does not make a lot of sense, since it depends on a scenario in which a prostitute has sex with her customer to make sure he's not a cop before striking a deal. In any case, if police regulations are as strict as Inouye claims, knowledge of them would have the same effect on the behavior of pimps and prostitutes as knowledge of a statutory restriction would.
Apparently that has occurred to the SPD, which decided not to send any representatives to a Senate hearing on the prostitution bill last Friday. Inouye explained that the first rule of the department's policy regarding sex with hookers is not to talk about the department's policy regarding sex with hookers:
Maj. Inouye also addressed the department's absence at last Friday's hearing, saying they have to be very careful about what they say publicly about policies when it comes to their undercover investigations. "We felt at that point, if I went to the hearing, I might be subjected to questions about our undercover polices that I might not be able to answer," he said.
Kawabata and Inouye talk about their work as if they are catching terrorists and dare not tip them off about police methods because lives hang in the balance. But in reality, cops enforcing prostitution laws are not protecting the public from dangerous predators; they are trying to stop consenting adults from exchanging sex for money. There is nothing noble or worthwhile about that work, and it surely does not deserve the sort of deference the state House showed when it unanimously agreed that police need the leeway to have sex with prostitutes so they can stop people from having sex with prostitutes.