Los Angeles Cannot Find Funds in Its $7-Plus Billion Budget to Care for Roads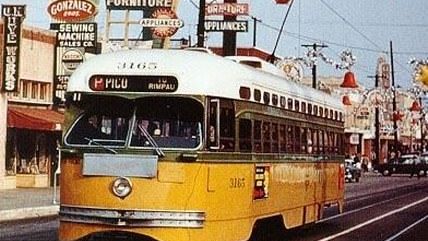 (Metro Transportation Library and Archive / Foter / CC BY-NC-SA)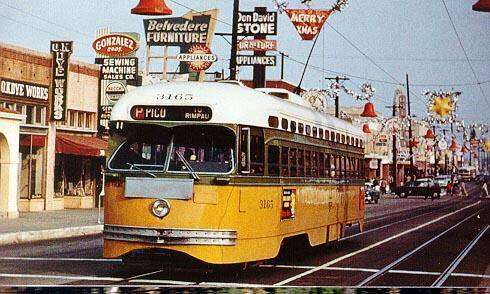 If we need the government to pave the roads, then how come government can't actually seem to pave the roads?
It's a question to ask a lot in California, where citizens pay significant amounts of taxes, and yet the roads are often disasters. On the state level, the Reason Foundation notes, California spends more per mile than the national average for its highway system, yet ranks near the bottom of the list for road conditions.
On the local level, residents may see the same problems. Los Angles has high state and local taxes (sales tax in the city is 9 percent) and yet more than a third of the streets in the city's streets are get failing grades for road repair (the Los Angeles Times has an interactive map here).
What's the solution to the problem? Not shifting resources and rethinking priorities, obviously. Los Angeles just needs more taxes! From the Los Angeles Times:
One year after Los Angeles voters rejected a sales tax increase, the City Council is looking at trying again — this time by tying the money to the repair of the city's deteriorating network of streets.

Two high-level City Hall policy advisors recommended Tuesday that lawmakers place a half-cent tax hike on the November ballot that would generate $4.5 billion over 15 years. The proceeds, they said, would pay to fix the most severely damaged roads and sidewalks.

Passage of a tax could add momentum to Mayor Eric Garcetti's "back to basics" campaign, which focuses on upgrading basic services. The proposal also could help city leaders resolve a potentially costly disability rights lawsuit filed by wheelchair users who say buckled sidewalks block their access.
That last tax that failed required a simple majority. This one would require a two-thirds majority to pass, so to say its chances are as rough as pushing a stalled car up one of the city's pothole-covered hills is an apt if rather labored simile. Why should anybody trust the city would spend its current revenue for road repairs when it's not currently spending its revenue for road repairs?
Jack Humphreville, who writes about L.A.'s budget for the website CityWatch, said city elected officials have used money that should have gone to road repairs to fund excessive employee salaries and benefits. "They were grossly negligent over the last two decades in maintaining our infrastructure," Humphreville said.

Gary Toebben, president of the Los Angeles Area Chamber of Commerce, said his organization is concerned about the burden a new tax could place on businesses and consumers. Toebben said he also wanted to know whether the Metropolitan Transportation Authority would pursue a separate sales-tax hike for transit services in 2016. "If you keep adding taxes, eventually you reach a point where people say that's just too much," he said.
And let's not forget, the city encouraged voters to pass a referendum that caps the number of legal medical marijuana shops in town and is planning to shut hundreds of potential taxpaying businesses down.