Florida's Special Election Does Not Bode Well for Democrats. Neither Do Obama's Poll Numbers.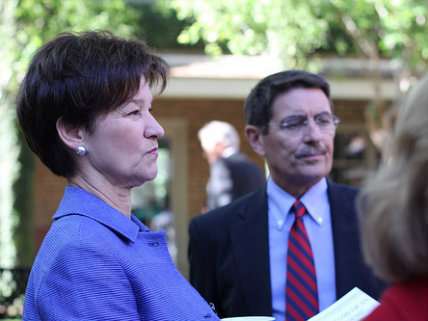 If you're a Democrat, you've got to be feeling pretty glum today about the prospects for November's mid-term election.
One reason why: In a special election in Florida's 13th Congressional District yesterday, Democrat Alex Sink lost to Republican David Jolly.
Sink, who ran a failed campaign for governor in 2010, was a candidate with better name recognition, and she had some real advantages. Last November, Sink was running ahead of Jolly by 20 points. Sink's campaign was better funded, and outside group spending tilted toward the Democratic candidate by $1 million. Barack Obama won the district twice. And Jolly's campaign was not exactly masterful (at one point he openly disagreed with an ad the national GOP was running against Sink). Libertarian candidate Lucas Overby managed to capture about 5 percent of the total, which may or may not have split off a few votes that would have otherwise gone Republican. (Nick Gillespie has more to say on the Overby question.)
Somehow, Sink still managed to lose.
What gives? The easy takeaway is that this was all about Obamacare. That's the line that the national GOP is pushing, and it's not totally wrong. But it's a little more complicated than that. Jolly and his allies—really, Sink's enemies—hit his Democratic opponent with a volley of ads accusing Sink of supporting the health law's Medicare cuts and tying her to the Obamacare mess.
Yet although Democratic strategists had started to hope earlier this year that the party's candidates would play offense on the law, Sink wasn't exactly running as a full-throated Obamacare booster. Instead, Sink was calling the rollout of the exchanges last year "disastrous," and saying that Obama had "failed us" with his management of the implementation.
Still, Sink's half-hearted support for the law—despite misgivings about implementation, she opposed ditching Obamacare entirely—can't have helped. And her party affiliation tied her to President Obama, who is not exactly racing up the popularity charts these days.
That brings us to another reason for Dem despair: A Wall Street Journal/NBC News poll released yesterday puts the president's job approval rating at 41 percent, down two points since January. That's the lowest it's ever been. Overall, the national vibe is bad for the president and negative feelings toward Obama are up since last fall, at 44 percent, compared to 41 percent who report positive feelings.
Republicans aren't winning hearts either. But the poll suggests that the public is coming around to the belief that the GOP should be in charge of the legislature. Slightly more respondents—44 percent—said they now prefer Republican control of Congress to control by Democrats.
Add in the fact that turnout in mid-term elections tends to favor Republicans, and you have a pretty gloomy outlook for Democrats come November. Bad news like we saw today exacerbates this effect. It's a feedback loop. Between the poor polling and yesterday's election, I suspect lots of Democratic hearts are starting to, well, sink.