Ukraine: Alleged 'Armed Invasion,' Ousted President Speaks from Russia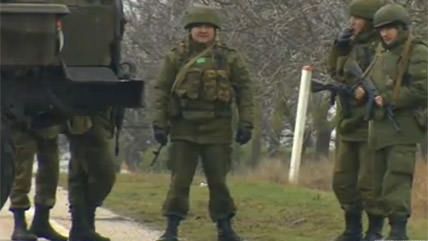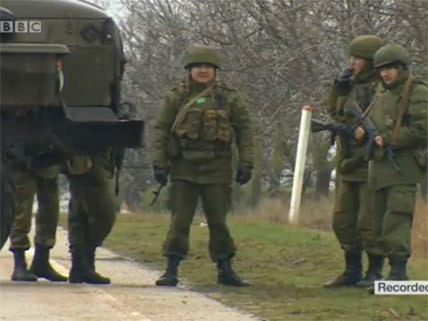 In Ukraine's Crimean region, tensions continue to rise as hundreds of heavily armed men began patrolling two airports and are blocking road access with military vehicles. Who they are, though, remains unclear.
The Minister of Internal Affairs issued a statement describing the action at Simferopol, a civilian airport, and Sevastopol, a military airbase, as an "armed invasion and occupation in violation of all international treaties and norms. It is a direct provocation of armed bloodshed in the territory of a sovereign state."
Acting President Oleksandr Turchynov said that that "judged by our special services" that although they bear no insignia, the gunmen surrounding these locations are "professional soldiers."
Daniel Sanford of the BBC speculates that "they could be a pro-Russian militia or they could be Russian troops," because "they don't want to say who they are but are being helped by pro-Russian activists, who are keeping cameras at a distance.
Although the Russian government has previously threatened intervention, has been running military exercises near the border this week, and is reportedly both flying military helicopters in Ukrainian airspace and blocking Balaklava Bay with an armed ship, Russia's Black Sea Fleet denies any involvement in the airport standoffs.
The region has a large ethnic Russian population and some want to break entirely from Ukraine.
Meanwhile, ousted fugitive President Viktor Yanukovych, whose whereabouts were unknown after he fled the capital one week ago, has reemerged in Russia. He spoke at a press conference in Rostov-on-Don rejecting foreign military intervention in Ukraine's domestic affairs, but said that "Russia should and must act." He blamed the nation's instability on western powers and the opposition, describing the latter as "pro-fascist activists" and "bandits." Yanukovych also said he won't participate in the presidential election in May 2014, calling the decision to move the vote from February 2015 as "unlawful," though he also assured that he remains Ukraine's legitimate leader. Opposition leader Vitali Klitschko today confirmed that both he and former Prime Minister Yulia Tymoshenko will run.