Let Them Eat Grilled Cheese! Retired Gen. Wesley Clark Gets Paid a Quarter-Mil for Flogging Food Trucks to Vets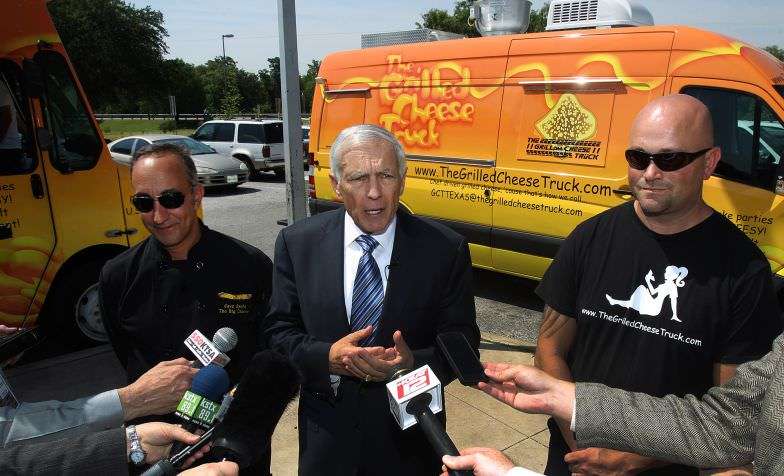 Was it really so long ago that Gen. Wesley Clark was, for a millisecond at least, the Democratic Party's presidential front-runner? Last time I paid attention to the co-architect of America's war to detach Kosovo from Serbia, he was busy making one of the craziest arguments yet in favor of bombing Syria. But it turns out the blue-eyed former general has been leveraging his military career to make bank in the private sector, through a series of increasingly bizarre stunts.
First came Clark's involvement in the ethanol business. Then came a chairmanship of a Canadian energy company desperate to wheedle foreign coal-mining contract in–wait for it!–Kosovo. After a detour into a reality TV show called Stars Earn Stripes, now Clark is…well, you try to figure it out:
Yes, that's right: Your next big penny stock is a company shelling out at least $240,000 a year (with various warrants and lucrative performance bonuses) to a mediagenic pitchman who can turn the untested field of food-truck franchising into a heartwarming if hard-to-follow story about Helping Our Vets. (Sample vagueness: "The company has 14 of its own trucks in California, Arizona and Texas, and is looking to offer the first 100 franchised trucks to veterans. Franchising fees are $25,000, but Lee and Clark say the company will subsidize them if vets qualify to own a truck but can't afford it.")
Best of luck to the vets and food trucks, anyway. As for Clark, he'll certainly need it if he's going to get anywhere near that goal of topping off his military career with a cool $40 million.
(Thanks to O'Leary for the tip.)