No Kimchi Hot Dogs for Folks in North New Jersey
Anti-food truck attitudes in Bergen County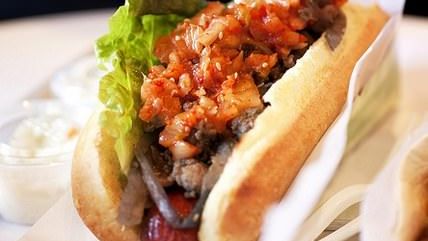 (bionicgrrrl / Foter / CC BY-NC)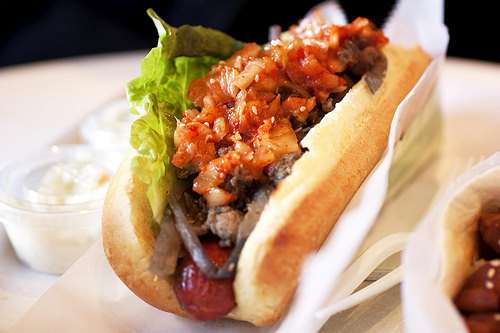 Cronyist protectionism in New Jersey? Color me shocked.
The subject is food trucks, and the problem is that towns in Bergen County in northern New Jersey aren't letting them in. Elisa Ung of NorthJersey.com delves into the all-too-familiar story of a food truck operator struggling to survive not due to lack of consumer demand, but due to government intervention:
Instead, her bright turquoise Rosie's Weenie Wagon is in storage and Rosario D'Rivera, the 53-year-old unemployed corporate graphic designer who turned to hot dogs to pay her bills, sat slumped across from me in a diner booth, talking about scraping out the last of her 401(k) for training to become a home health aide.

And there could go Bergen County's one piece of the gourmet food truck craze that is setting trends elsewhere. While trucks selling ice cream or coffee have always been part of North Jersey's landscape, our towns have inexplicably not welcomed the trucks of today, which offer foods that are so much more innovative and unique.

The full impact of what we're missing hit me a few weeks ago at the Winter Blast festival in Secaucus. An artisanal taco truck hawked slow-cooked carnitas tacos with caramelized orange peel, while across the way, Neapolitan pizzas were being baked in seconds. Trucks sold apple cinnamon empanadas, kati rolls and biryani, fried cheese curds, authentic Thai soup, cake pops, all within feet of each other.
Ung is a restaurant reviewer and seems particularly attuned to the different flavors available from food trucks. In fact, Ung was unfortunately responsible for D'Rivera's predicament. She wrote about the hot dog vendor last fall, prompting the city to kick her out of her parking location the next day. D'Rivera fought for changes in laws in Englewood, the Institute for Justice got involved because the proposed regulations were too restrictive, and then the city shelved them. Now city leaders blame her for fighting against the rules.
Ung makes the notable point, with the help of a local chef, that the low overhead allows food trucks to provide more expensive food choices (fancy some high-end beef in that hamburger?) that don't always make sense for a restaurant:
"Grass-fed, organic beef is a tough sell," [Arthur] Toufayan said, because of the high cost of the product. He said the markup becomes too high for a restaurant, where he has to pay wait staff, servers and rent. But merely handing such a burger to a customer out of a truck? That makes it more affordable.

That's why so many food trucks are able to sell such high-quality, edgy, affordable eats. But customers in Bergen County haven't been able to try Toufayan's burgers. He had to take his truck down to Newark. (He's currently on hiatus for the winter.)
And so the customers lose out. But who cares, as long as those the same old pasta shops who have been around for decades are happy?