UN Report Details Abuse of Children By Rebels and Government Forces in Syria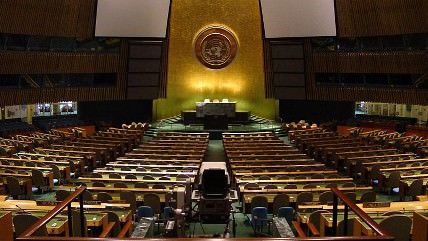 (de-Benutzer-Eborutta/wikimedia)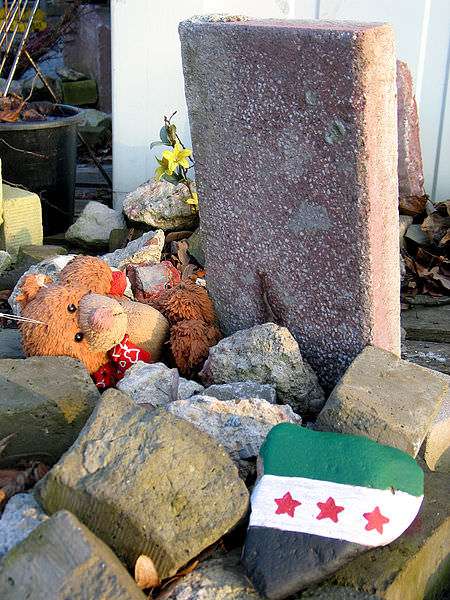 A United Nations report released online yesterday highlights the awful suffering that children in Syria have endured throughout that country's ongoing civil war. Writing in the report, U.N. Secretary-General Ban Ki-moon said, "The suffering endured by the children in the Syrian Arab Republic since the outset of the conflict, as documented in this report, is unspeakable and unacceptable."
The report details how government forces have been torturing children allegedly associated with rebel groups:
Multiple accounts of children and adult witnesses indicate that the majority of children were held in the same cells as adults, and that children as young as 11 years old suffered ill treatment and acts tantamount to torture to extract confessions or humiliate them or to pressure a relative to surrender or confess. Ill treatment and acts tantamount to torture reportedly included beatings with metal cables, whips and wooden and metal batons; electric shocks, including to the genitals; the ripping out of fingernails and toenails; sexual violence, including rape or threats of rape; mock executions; cigarette burns; sleep deprivation; solitary confinement; and exposure to the torture of relatives. Reports indicate that children were also suspended from walls or ceilings by their wrists or other limbs, were forced to put their head, neck and legs through a tire while being beaten, and were tied to a board and beaten.
The U.N. report is the latest to exposes the extent of the Assad regime's brutality. Last month, a report was released detailing the slaughter of thousands of detainees carried out by government forces.
While the scale of the Assad regime's barbarism is always worth highlighting, it should be noted that the U.N. report also mentions that rebels associated with the Western-backed Free Syrian Army (FSA) have been recruiting children to be used in combat. The FSA does not have children recruitment as a policy, but some boys feel pressured to join the fight against Assad:
The FSA Code of Conduct of August 2012 did not mention or prohibit the recruitment and use of children. However, monitoring and verification activities indicated that it was not conducted as a policy or systematically. Interviews with children and their parents indicated that the loss of parents and relatives, political mobilization and peer pressure from families and communities, contributed to the involvement of children with FSA-affiliated groups. Many boys stated that they felt it was their duty to join the opposition.
More from the report on the FSA's recruitment:
13. Boys aged 12 to 17 years were trained, armed and used as combatants or to man checkpoints. For instance, a 15-year-old boy reported having been recruited in April 2012 by FSA in Tall Kalakh (Tartus governorate), and having participated in military operations.
The report also mentions reports of Syrian government forces recruiting child soldiers:
The United Nations did not receive reports of children having been formally recruited by Government forces. However, Government forces, including the Shabiha militia and the popular committees/National Defence Forces, reportedly intimidated and seized young males, including those under the age of 18, to join their ranks at checkpoints and during raids in pro-Government and contested areas. In one instance in July 2012, a man reported to the United Nations that the Syrian Armed Forces had tried to recruit his 16-year-old son while they were passing a checkpoint in Deir ez-Zor governorate.
The FSA is not the only rebel group mentioned in the report. The report refers to rebel groups, such as the jihadist group Jabhat al-Nusra, which have allegedly killed children. The report claims that "Armed opposition groups" summarily execute children.
28. Children were the victims of mass killings in Latakia governorate that were committed by a coalition of armed opposition groups allegedly including Ahrar al-Sham, ISIS, Jabhat al-Nusra, Jaish al-Muhajireen wal-Ansar and Suqour al-Izz during the so-called Barouda offensive against Alawite villages on 4 August 2013. At least 18 children, including boys and girls under the age of 10, were killed and an unknown number of children were maimed. Most children were shot in their houses or while trying to flee with family members. In some instances, civilians reported that armed opposition groups tried to relocate civilians before launching operations. In most incidents, however, FSA-affiliated and other armed groups conducted military operations in densely populated areas, leading to the displacement and civilian casualties, including children. Armed opposition groups reportedly used snipers, mortars, rockets and improvised explosive devices in residential areas.

29. Armed opposition groups also engaged in the summary execution of children. Lack of access, including for security reasons, has prevented the United Nations from systematic documentation. Trends are believed to be much higher than the number of recorded cases. For instance, in 2011 in Damascus governorate, FSA elements reportedly killed a 16-year-old boy, who had allegedly been coerced to work with the Government when his father was detained by Government forces. The United Nations also received reports of children killed by Jabhat al-Nusra, including, a 16-year-old boy who was shot dead in April 2013 in Al Hassakeh governorate. Also in Al Hassakeh governorate, a 14-year-old boy was reportedly shot dead by elements of Syrian Kurdish armed groups associated with PYD during a demonstration of another Kurdish faction.
Unsurprisingly, the first round of peace talks in Switzerland between the Syrian government and some opposition representatives did not amount to much. As the war in Syria goes on and interventionists continue to make the case for increased foreign involvement in the war it is worth bearing the recent U.N. report in mind. As awful as the Assad regime is, opposition groups are also responsible for abuses.