Is Crazed Super Bowl Security a Taste of America To Come?
Think of a TSA checkpoint that goes on, forever.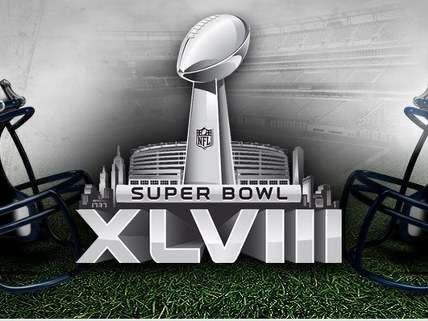 In the run-up to Super Bowl XLVIII (just be happy they don't use Egyptian numerals), the New York City Police Department is deploying an "amazing arsenal of security initiatives," including 200 "temporary" surveillance cameras to ensure that dirty deeds remain undone at the big game. That's remarkable, since City Hall in the rotten apple is actually about 11 miles from the site of the kickoff at MetLife Stadium, which is in East Rutherford, New Jersey. But never fear, security at the the Super Bowl itself promises to make attendance at football's championship game an awful lot like spending several hours at a very cold TSA checkpoint—with some watery beer. Get used to it America, this massive demonstration of pointless security theater just may be a glimpse of the future.
The NYPD's 200 new and oh-so-temporary security cameras are deployed along "Super Bowl Boulevard"—what you and I might recognize as a football-themed street party along Broadway, meant to make up for the fact that professional football games aren't actually played in New York City these days. The full array of security at the street party, reports CBS News, includes "police helicopters with special sensors to detect radiation on the ground, a counter terrorism 360-degree camera car to look for suspicious packages, bomb dogs, video cameras mounted as the NYPD's 'eyes in the sky' at various event locations, lots of radiation detection boats in addition to the usual complement of heavily armed cops."
This, remember, is a closed-off stretch of urban avenue, miles and miles from the actual game.
At MetLife stadium itself, attendees will be happy to know that tailgating is banned (OK, you can party in your parking space, if you have one, without a grill), vehicles may approach the venue only once, and the list of prohibited items is…long. Two columns, in fact. No banners, frisbees, or umbrellas, for sure, so have fun and hope for clear skies.
In keeping with NFL policy implemented at all stadiums, this year, MetLifeStadium points out:
The NFL strongly encourages fans not to bring any type of bag to the Super Bowl, but if necessary, those outlined below are permissible:

• Bags that are clear plastic, vinyl or PVC and do not exceed 12″ x 6″ x 12″ OR

• One-gallon clear plastic freezer bag (Ziploc bag or similar), AND

• Small clutch bags, 4.5″ x 6.5″, with or without a handle or strap, can be taken into the stadium with one of the clear plastic bag options.

• An exception will be made for medically necessary items after thorough inspection at a gate designated for this purpose.
The NFL concedes that its tightened security is partially a response to the Boston Marathon bombing, but adds that it has been patting-down fans since 2007 and running them through metal detectors since 2012.
Special to the Super Bowl, though, is the presence of 700 New Jersey State Troopers, along with federal agents and a variety of vaguely defined high-tech snooping devices. The New Jersey State Police Department blog describes the process of entering the stadium on game day:
Fan screenings begin at 2 p.m. on game day. Fans will enter heated welcome pavilions at MetLife Stadium, where they can expect to encounter walk-through metal detectors, X-ray machines, K-9 dogs and pat-down searches. They are encouraged to arrive early to avoid delays and to speed up stadium entrance.
Shockingly, MetLife Stadium points out that hotel rooms remain available. You don't say.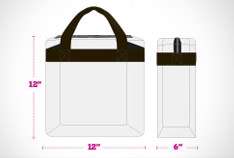 This multi-square-mile, prison-style lockdown must be in response to dastardly threats, right? Nope. "As of this time there are no threats directed against this event that we're aware of," New York City Police Commissioner William J. Bratton said just yesterday. This is all just in case.
So…does any of this actually make anybody safer?
Don't count on it.
TSA checkpoints at airports are rightly mocked for providing security theater—lots of show with no improved safety. The Department of Homeland Security's Inspector General, the Government Accountability Office, and private researchers have all called out the TSA for its failure to assess the validity of any of its procedures and its general uselessness. A 2007 review of TSA methods published in the British Medical Journal found "no comprehensive studies that evaluated the effectiveness of x ray screening of passengers or hand luggage, screening with metal detectors, or screening to detect explosives."
"One might wonder if the Transportation Security Administration has found the right balance between safety and convenience with its notoriously burdensome airport screening procedures," notes the New York Times editorial board.
But that TSA model of checkpoints, hardened perimeters, and lots of creepy scrutiny has grown in vogue after attacks at public events like the Boston Bombing, no matter that it's a lousy model to begin with. After the Boston tragedy, security expert Bruce Schneier told Reason, "The most dangerous part of any airplane flight, movie-theater outing, or marathon run is still the drive to and from the venue. By far. Terrorism almost never happens, and we shouldn't let the media's endless replaying of the details fool our brains into over-magnifying the threat."
Unleashing cops and surveillance on a street fair miles from a popular football game is only marginally nuttier and more pointless than doing the same at the game itself. If street fairs are considered public events worthy of high-security responses, where do you draw the line? Can you draw a line?
After a September 2013 terrorist attack at a shopping mall in Nairobi, Kenya, Interpol Secretary General Ronald Noble pointed out that security requires a choice between creating hardened perimeters around every possible target in their endless number, or leaving people to respond to situations as they happen and provide for their own defense. The truth is, he pointed out, "you can't have armed police forces everywhere."
Looking at the failure of security at the Nairobi mall, Noble asked, "'Where would you have wanted to be? In a city where there was gun control and no citizens armed if you're in a Westgate mall, or in a place like Denver or Texas?" Noble, who was Undersecretary for Enforcement of the United States Department of the Treasury before he took the Interpol job, strongly suggested that letting people take responsibility for their own safety—specifically, he referred to "armed citizenry"—made more sense than what we're now seeing at the Super Bowl.
It also, incidentally, might also allow for a game that's more enjoyable to attend, and less like visiting a politician in prison.
But the United States, one of the few nations in the world that generally respects its citizens' right to defend themselves, is the scene of massive security theater around Super Bowl XLVIII, echoing similar, if lower-key, build-ups at other public events in the post-9/11 world. If the U.S. won't step away from the intrusive and ultimately pointless security measures sucking the joy from public gatherings, where will the trend end?
Once you're deploying surveillance cameras and an "amazing arsenal of security initiatives" for themed street fairs, you're only a step away from making that part of daily life.