European Union Troops To Be Deployed To CAR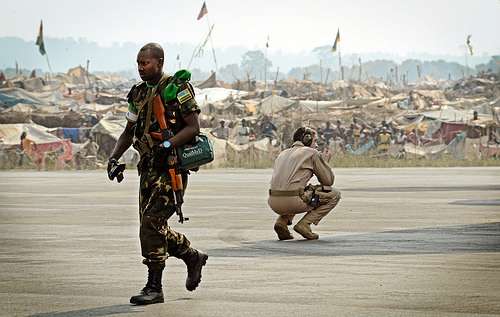 Last month, the French began a United Nations-approved military intervention in their former colony, the Central African Republic (CAR), in order to help an African peacekeeping force in putting an end to the violence there. France currently has 1,600 troops in CAR.
The French troops in CAR are to be joined by other European soldiers. According to the Atlantic Sentinel troops from "Belgium, Estonia, Finland, Lithuania, Poland, Slovenia and Sweden." could be part of the 500-strong force. According to The Wall Street Journal, French Foreign Minister Laurent Fabius has said that the troops could begin arriving in CAR by the end of next month.
Reuters has reported that the U.K., Germany, and Italy have said that they will not be sending ground troops to CAR.
Although the U.S. is not contributing troops to the peacekeeping mission, it has provided logistical support, having transported Rwandan and Burundian soldiers to CAR.
According to French Defense Minister Jean-Yves Le Drian, international troops have been focusing on security in the capital, Bangui:
In the interview, Le Drian said the international troops have so far provided focused on security in the capital, Bangui, but "sources of violence" remain elsewhere in the country — which is about the same size as France.

"We'll have to deploy there," he said. "We can do it more easily once the Europeans arrive, by the end of February."
The level of brutality in CAR is shocking. There have been reports of children being beheaded and having their throats slit, and of people being thrown to crocodiles. According to one report, a widower ate a man's leg in a revenge attack. Yesterday, the Associated Press reported that a mass grave had been discovered outside Bangui. The French ambassador to the U.N. has said that the French underestimated the level of hatred between Christian and Muslim communities.
The United Nations says that over 1 million people have been displaced in CAR, and one of its senior envoys recently said that the country is in a "mega-crisis."