NJ Weedman Leaves Jail Once a Month For Medical Marijuana Treatment, Running a "Just Say No" Campaign Against Chris Christie for President
Marijuana activist previously beat a possession with intent charge thanks to jury nullification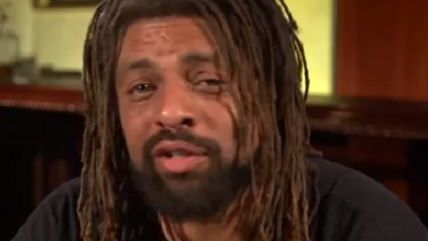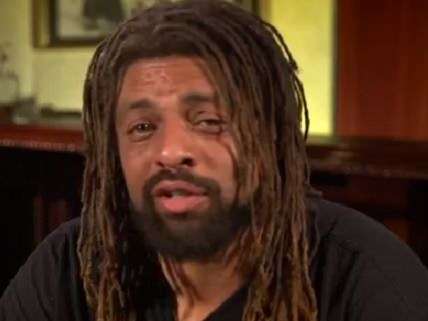 In late 2012, a New Jersey jury found marijuana activist and medical marijuana user Ed Forchion, AKA the NJ Weedman, not guilty of a possession with intent charge. Subsequently, Forchion, who had moved to California and opened a medical marijuana dispensary, claimed the DEA was targeting him and his dispensary in part because he beat the New Jersey charge.
Now the Weedman is back in New Jersey, serving a nine month "staggered" prison sentence on a 2010 marijuana possession conviction and related probation violation. Forchion's sentence is staggered because he's allowed to leave for ten days every month for bone cancer treatment, which includes taking medical marijuana. He's not stopped his marijuana activism while in jail, either. My 9 NJ reports:
Forchion's latest endeavor is the "Just Say No To Governor Christie" campaign.

"Governor Christie made a political point to be opposed to the marijuana laws and cannabis laws and just taking a cue from the "Just Say No" campaign I figured I would put out the ads nationally to opposed Governor Christie's campaign for presidency," Forchion said.

Forchion has voiced his displeasure in the past with the difficulty to get a medical marijuana card in New Jersey and the lack of recipients who have been approved compared to the amount of people who need it.

Last year, a New Jersey medical marijuana patient and his physician sued the state government of New Jersey, alleging the Christie administration was sabotaging the medical marijuana program by deliberately delaying the approval of applications and missing required reports.
Christie is widely expected to make a run for the Republican nomination for president in 2016, positioning himself as an anti-libertarian candidate.
Related, Reason TV talked with Forchion last year about how jury nullification got him his 2012 not guilty verdict. Watch below: